GULMARG GONDOLA CABLE CAR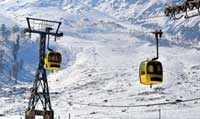 Perhaps the best attraction of Gulmarg resort is the cable car, Gondola which has become famous all over the world for many reasons. Gondola is the name of the cable car lift that operates in the famous ski resort of Gulmarg. Gulmarg is a famous and internationally recognised ski resort. It has slopes for every kind of skiers. It is a lush green meadow which gets covered with snow during winters and becomes a paradise of skiing. It accommodates over a thousand skiers at a time. The actual meadow of Gulmarg is ideal for beginners, however, the tougher slopes for intermediaries and the expert skiers are found in the higher mountains of Khilanmarg, Apharwat and Alpatthar Mountains. Gondola cable car was originally devised to make the higher mountains accessible to the skiers in a more comfortable way. Gondola, however, became more popular among the tourists and it is the prominent attraction of the Gulmarg and the prime reason of people visiting this resort. This is also an alternate option of going up the higher slopes for those who cannot afford heli-skiing.
Gulmarg gondola in Kashmir became the world's second highest operating cable car after the closure of Merida Cable car in Venezuela in 2008. Each gondola is a yellow coloured cabin with a capacity of carrying six adults, slung over a high tensile strength cables. These cables move continuously and with them ride the cable car. The cable car operates in two phases – 1 and 2. Phase 1 takes you to a height of 10,000 metres above the sea level. In Phase 1 you land in Kangdori seven springs just after 15 minutes. It is a natural water resource, where seven springs originate naturally. From here you can go to Khilanmarg, another beautiful place and you can access ski slopes for skiing as well.
Phase 2 is far better, however. It takes you to a fearful height of 13,500 metres above the sea level with a steep height for 25 minutes to the rocky mountain of Alpatthar. It also at times travels through clouds, making the ride a dream. From the Alpatthar peak, you can have a fascinating panoramic view of the whole valley of Kashmir. You may also visit the perpetually frozen Alpatthar Lake. It remains frozen throughout the year. Here you will also find some rare flowers.
Gondola ride in Gulmarg is too good an experience to be missed. Many people even consider it a blunder to miss the Gondola ride, particularly Phase 2. Tickets are available online and also at the ticket counter in Gulmarg. However, it is better to book online as the counters are usually overcrowded. The tickets are affordable and range from 300 to 500 for the two phases. Even if you are not a skier, you must take a Gondola ride.
However, the due to the weather and steep rise of altitude there are some restrictions in place. Persons suffering from Heart ailments, respiratory problems and children below the age of 5 years are not allowed. Also the weather can get very cold in any part of the year, so it is advisable to carry some warm clothes along. Warm clothes, like jackets, overcoats and rain coats are hired in Tangmarg area at reasonable rates. Don't forget to take sunscreen for your eyes and face, as it is white everywhere and you may end up having snow burns, as snow reflects most of the sunlight it receives.
For booking on GULMARG GONDOLA CABLE CAR please contact the
Kashmir Travels booking
team.