Hemis Festival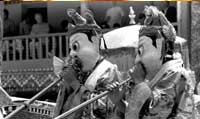 Hemis Festival is one of the main festivals celebrated in Ladakh. This fiesta is popularly known as Mela Hemis Gompa.The fiesta has a lot of cultural significance. The fiesta is celebrated on the occasion of the birth anniversary of the Buddhist Guru Padmasambhava in the
Hemis Monastary
. The Monastery is one of the best and the richest monastery in Ladakh. The holiday is celebrated on the 10th of the Tibetan Lunar month corresponding to June July of the solar calendar. It usually lasts two days, which are public holidays in Ladakh province.
The festival is marked by sacred religious and symbolic dances and special music performances. Monks and lamas perform the sacred Mask Dance at the monastery. The dance is symbolic and celebrates the victory of good over evil. The lamas also explain the significance of the sacred dance performers to the spectators and participants.
A great fair is also organised during the fiesta, which is a source of attraction for the tourists. All the villagers and families come together during the occasion. The festival provides a great opportunity for the travellers to interact with the local population. Beautiful handicrafts are put on sale during the fair.
The festivals in Ladakh are celebrated according to the Tibetan Lunar Calendar and therefore the dates vary each year. This year the Hemis Festival falls on 18th and 19th June. The festival calendar of Ladakh for the year 2016 is
Ladakh Festivals Dates