BHADERWAH JAMMU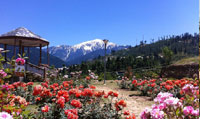 Bhaderwah is a small valley of Doda district of Jammu Province. The place is located on the foothills of middle Himalayas. It has an average altitude of about 5000 ft, with the dimensions of about 6km and 4km. It is situated at a distance of about 80 km from Batote. Bhaderwah is the most beautiful place of Jammu. It has some incredibly beautiful places with some great natural beauty that casts a spell on the beholders. Such is the beauty of the place that it has earned the name of "Chota Kashmir", literally "small Kashmir". Province is a mountainous town. The place wears its best looks during the spring months from April when the snow starts melting and everywhere around is splendidly green. The temperature is fairly moderate throughout the year, compared to the other areas of the Jammu division. Colourful fairs, festivals, and a unique cultural diversity mark the beautiful land. It is an important and popular pilgrimage centre as well. An important Hindu Pilgrimage of the area is the Kailash Yatra.
Bhadarwah
is a land of extreme beauty. It is a place that will leave you fascinated and charmed. The fact that it is less crowded than other places in the state adds to its value. It is a quiet land which will soothe your nerves with its air. Small rivulets that dance and sing to the tune of a rhythmic breeze adorn the beautiful land. The sky is clear, blue and beautiful and the high lofty mountains look majestic as if they are trying to touch the skies. The place is exceptionally green, with vegetation spread across great expanses of land.
Bhadarwah is an important activity centre for cultural, social and religious activities. It attracts tourists from all over the globe due to its breathtaking beauty, clear atmosphere, splendid climate and calm surroundings. Rare black forests are found in this province, which are home of tigers.
The valley is exceptionally beautiful and has won high praise from travellers since times immemorial. The bewitching beauty of the place casts a spell on the beholders and leaves them mesmerized. There are a lot of scenic spots for tourists in Bhadarwah. It has also a strong potential for adventure sports. The beautiful scenic spots for tourist interest include SwejDhar, Fuklandhar, Khani Top, Subardhar, Bhalassa, Thatri, Kelar etc.
Bhadarwah
is also an adventure sports destination. There are opportunities for paragliding, skiing, mountaineering, trekking, car and motorbike rally, river rafting and much more. It is a sports paradise for adventure lovers.
Bhadarwah is well connected by roads and more and more roads are being linked with the beautiful valley. It is a must visit place. The beauty of the place will leave an impact on your mind and heart for years to come.