MOUNTAINS IN JAMMU KASHMIR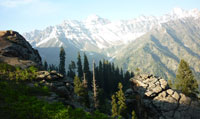 Jammu Kashmir is known for a number of mountain ranges. It is a place where heavens touch the earth. The mountains are majestic, colossal, grand and beautiful. Most of the mountains are snow-covered throughout the year inhabiting many enormous glaciers, providing water supply to a large part of Asia. All the three divisions are mostly mountainous. The state itself is located in the mighty Himalayan Range of mountains. World's second highest peak K2 or Mount Austin Godwin is in Ladakh region. The mountain ranges found in the state are:
Nunkun Range
Harmukh Range
Zabarwan Range
Affarwat Range
Pir Panjal Range
Shivalik Range
Tosamaidan Range
Karakorum Range
Many other mountains are also found in Kashmir.