MOUNTAINS IN LADAKH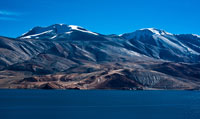 Ladakh is a trans-Himalayan valley. It separates the western Himalayan peaks from the Tibetan Plateau. The valley is located between the mighty Himalayan range and the Karakorum Range. The place is considered to be the highest inhabited place in the world. Ladakh is located in the lap of the Karakorum Range of mountains. Located in the Central Arc, between Nanga Parbat and Namcha-Barwa, the Karakoram Range lies in Kashmir north of Great Himalayas, standing over a high region over 3,000 metres, broad and cold, with no trail crossing it. Almost 10 peaks rise over 7,000 metres, the highest being Mount Godwin Austin, which is the second highest peak in the world. It rise to a height of 8,611 metres above sea level. Other peaks include Dast-i-ChilSar, Masherbrum, Rakaposhi, SaserKangri, Terem-Kangri, Golden Throne etc.
There are a large number of mountains in Ladakh.
Zanskar Range
, Ladakh Range, Nunkun massif, Nanga Parbat, K2 and many other Himalayan ranges are found in Ladakh. The peaks are rough and rugged. They rise to stunning heights and one feels like they are touching the skies. Some fancy touching the skies while standing on the foothill cliffs.
The highlands make Ladakh an ideal adventure sports destination, besides enhancing the beauty of the place. The mountains inhabit some of the world's largest glaciers, forming many rivers and Lakes that run throughout Ladakh.
For trekking and rock climbing the foothills in Ladakh in particular are the best. The region is considered to be the highest inhabited place in the world. So, you will find population living in some remote areas of the region. The region in itself is mainly comprised of peaks. The huge Rocky Massifs are splendid and stand bare and stark. World's second and the fifth highest mountains are accessible from Ladakh. Nun Kun massif, Zanaskar range and the Karakorum Range are the primary peak ranges in this region. However, due to a hostile climate if you want to hike into the peaks in Ladakh, choose the peak summer months for the expeditions. The best time would be from May to September. The district receives a heavy snow fall and most of the areas remain cut off from the world during winters. It would be a great risk to climb
mountains in Ladakh
in winter.