Buddhist GOMPAS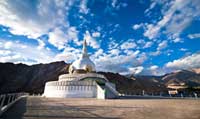 Gompas or monasteries are the places of worship of the Buddhists. Buddhism is mainly confined to Ladakh Province and hence Gompas are also found only in Ladakh Province. A pilgrimage tour to Gompas in Ladakh is very much enchanting, soothing, relaxing and delightful. Ladakh is known as the "land of lamas" and people in Ladakh, like elsewhere in the state are very much devoted to their religion. Ladakhis practice the Tibetan form of Buddhism and their religious practices, festivals, rituals and monasteries are founded accordingly.
The Buddhist lamas and people worship in the great monasteries in Ladakh. These monasteries are the centres of worship, meditation, religious preaching and teaching. There are a number of ancient and modern monasteries in Ladakh, which apart from being a great source of religious inspiration for the local population, are also great sources of attraction for tourists across the globe. A large chunk of tourists coming to Ladakh come exclusively to visit the monasteries.
Monasteries are spread throughout the length and breadth of Ladakh. The monasteries display a unique combination of architecture, history, beauty and faith. Many of the monasteries have a rich collection of Buddhist relics. The monasteries are located at isolated places far away from the hustle and bustle of life, making them a perfect setting for spiritual retreat. These are revered places and the architecture, location, culture, spirituality and the faith of the Ladakhis make them a perfect tourist delight.
And then the visit to monasteries is an additional boon. The monasteries have a strange eerie atmosphere in them. They cast a spell on you and charm you beyond imagination. The monasteries are places where you need to sit down and relax. The local population is very co-operative and at the same time very conservative about their religion and religious places, so make sure to uphold the dignity of the places.
A pilgrimage
tour to Ladakh
monasteries is a wonderful way of exploring the beauty of these Gompas and also the rich cultural heritage and religious faith of the people of Ladakh. People in Ladakh do not usually travel too far. It is a landlocked area which gets cut off from the rest of the world during winters. This is the prime reason that the place has preserved the ancient form of Tibetan Buddhism and they have not yet mixed their cultural and religious patterns with the modern ways of life. The simplicity of the people of Ladakh in their daily life and in every sphere of life is what stuns the visitor the most. If you travel to the higher mountains in Ladakh, you will find symbols of human love and prayer inscribed on stones and trees there.
A religious tour of Ladakh needs ample time and hence you need to travel to Ladakh exclusively for the pilgrimage tour at least once.
Today
Kashmir Travels Company
is number one tour operator of the Valley. The incoming tours department is professed by team highly tasteful and experienced specialists.