kokernag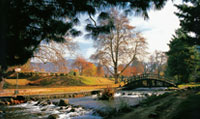 Kokernag is another beautiful and attractive tourist destination in Kashmir. It is located in Anantnag district, at a distance of about 70 km from Srinagar. The place has splendid natural beauty which is serene and calm. The place is blessed with some gorgeous natural beauty. Various rare varieties of plants and flowers are found here.
Kokernag has various interesting legends attached to it regarding its name. It got its name comprises of two words 'koker' meaning 'chicken' and 'nag' meaning 'serpent'. 'Nag' also means a sulphurous water spring in Kashmiri. According to the legend, it was a saint who came to the place with a bucket. He slept and kept his bucket nearby. After sometime some women came in search of water, but could not find any. They saw the sleeping saint and the bucket and decided to take water from the bucket. However, as soon as they went near, a serpent came out of the bucket, escaped and crept in the ground. Soon it emerged in the form of a chicken. The chicken began to dig the soil with its claw and water came gushing out of it. This originated the spring and was named Kokernag. It is also believed that the spring is called kokernag, because of it originates from a claw shaped origin in the earth and moves ahead like a serpent. It is also said that since the collection of various springs forms the shape of a chicken claw, that is why it is called kokernag. Otherwise the real name of the place is Bindoo Zalangam.
Kokernag
is a beautiful place with splendid scenic spot; the favourite being the garden that surrounds the spring. Waterfall is a beautiful attraction for the tourists. However, the most important tourist attraction is the Papa-shudan Nag, the sulphurous spring believed to possess magical powers of healing. The water is known for its digestive properties and other medical importance.
This tourist place is also popular for fishing as trout fish are found in the waters here. Trout fish are reared in small pools that have been set up by the department. You can purchase the fish from the department. These fish have a great taste and are considered as one of the superior species.
There is a botanical garden laid in Kokernag as well, which has become very popular with the tourists and the locals as well. The garden has a number of flowers, plants and trees in it. It is set against the backdrop of high alpine forests, where you can find some rare animals.