LANDSCAPE OF JAMMU AND KASHMIR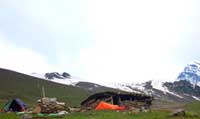 Jammu and Kashmir is an exceptionally beautiful place. The landscape of this place is simply out of this world and that is why it has been referred to as the Paradise on Earth. There are a number of places of to be visited and enjoyed and be mesmerized with. The erstwhile Princely state offers a wide variety of interesting places for sightseeing. The natural beauty of this place captivates you to discover more and more places on your tour. The places are extremely beautiful. All the three divisions of the state offer a lot of attractions for you. Most of the tourists coming to this heavenly place come for sightseeing. They get charmed with the great beauty of the place and none returns disappointed.
Amid a variety of things to do in Jammu Kashmir, sightseeing is probably the one reason which has a stronger attraction for tourists than any other thing. If you are also interesting to visit Jammu Kashmir for sightseeing, here is a description of the places that you should not miss.
The best place for sightseeing is Srinagar, the summer capital of the state of Jammu and Kashmir. It is located centrally in Kashmir valley. Srinagar is an ancient city dwelling on the banks of the River Jhelum. It has a number of places and things of tourist interest. A few of Mughal gardens, Dal Lake, River Jhelum, Historic mosques, temples, shrines, paper machie, handicrafts and a lot more to see. The Mughal gardens are the main tourist centres in the summer capital.Nishat Garden, Shalimar Garden, ChashmaShahi, PariMahal (The Fairies' Abode), Harwan Garden are the main gardens thronged by millions of tourists and locals annually. Most of these gardens are situated at a distance of merely 8-10 Kilometres from the city centre. Famous and the most revered Sufi Shrine Hazratbalis also located in Srinagar on the Banks of the world famous Dal Lake. Many other Sufi shrines are located in the vicinity of Srinagar city. The central Mosque, an ancient architectural masterpiece is also located in the old city Srinagar.
Dal Lake, River Jhelum, Nagin Lake, Anchar Lake adorn Srinagar. These water bodies make Srinagar more beautiful and a more frequented place than any other place in the entire state. The centres of handicrafts, which are famous all over the world, are also located in the Srinagar area.
Apart from Srinagar the other places that are beautiful and a must see, are:
IN KASHMIR

Gulmarg
Pahalgam
Aru
Chandanwari
Betab Valley
Sonamarg
Yusmarg
Kokarnag
Verinag
Achabal
Doodhpathri
Drang
Tosamaidan
IN JAMMU

Surinsar and Mansar Lakes
Amar Mahal Museum
Dogra Art Museum
Patni Top
NooriChhamb
Ranbir Canal
JhajjarKotli
IN LADAKH

Suru Valley
Nubra Valley
Zanskar Valley
Markha Valley
Leh
Pangong Lake
TsoMoriri Lake
Padum