Patnitop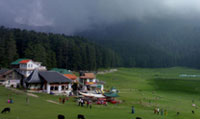 Patnitop is a hill station in the Udhampur district of Jammu division of the Indian state of Jammu and Kashmir. It is located on the National Highway between Jammu and Kashmir and is the highest point of the road at a distance of 47 km from Udhampur and 112 km from Jammu. It is a chief tourist destination of the state and is flocked by many tourists during the peak season. Patnitop is primarily popular for its adventure sports. It is mainly famous among skiers as there are wonderful opportunities available for skiing.
Patnitop was originally known as Patan Da Talab, which literally means "Pond of the Princess". It is believed that there was a pond in which the Princess used to bathe every day. Part of the pond still exists there. British officials may have been facing problems while pronouncing the name and spelling it, that is why the name with time became Patnitop.
Patnitop is a beautiful place and is at its best during the winter when it is covered under thick sheets of snow. However, the road to the region gets closed frequently during winters due to snowfall. There are many beautiful and interesting places located around this tourist place. There is an important temple of Hindus known as Naag temple, a visit to the place will be interesting.
Patnitop is well connected with Jammu and Kashmir by the national highway and ideally it should be visited from Jammu, while coming to Kashmir. The nearest railway station to the area is Udhampur, where trains operate to and from Delhi. The place has a complete tourist infrastructure with hotels, restaurants, taxis and other things. You can buy some local handicrafts and souvenirs from the shops near the temple.
Patnitop is perched on beautiful plateaus of the Shivalik belt of the Himalayas, close to the PirPanjal Range. River Chenab flows in close proximity. A beautiful lake, Sanasar is located close to it and is worth a visit. The region is a charming place with breath-taking natural beauty. The environment is calm, with thick pine forests and it is ideal for a picnic.
Patnitop is the closest winter sports destination of Jammu. In winters it is thronged by skiers. However the main attraction of the place is paragliding. The thrill of flying can be enjoyed at Diyawarai nearby. Paragliding, camping, trekking, rock climbing and other adventures is available near Sanasar Lake. There are many beautiful places also around Patnitop.