HAZRATBAL SHRINE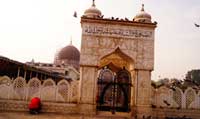 Hazratbal Shrine is the most revered Muslim shrine of Jammu and Kashmir. The sanctity of the shrine comes from the fact that the Moi-e-Muqadas, the sacred hair of the Prophet Muhammad (PBUH) is preserved here. The shrine is located on the left bank of the world famous Dal Lake at a distance of about 8 km from Lalchowk. The shrine is situated opposite to the Nishat Garden and from the Garden of the shrine you can have a spectacular view of the Dal Lake, with the gorgeous Zabarwan Hills in the backdrop. Char Chinar, an island with four Chinar trees in its four corners is also visible from here. Shikaras are available outside the gate of the shrine, which take you to the Nishat Garden via Char Chinar and Golden Gate. The shrine thus forms a unique combination of holiness and beauty, which is the prime source of its popularity.
The history of the Shrine dates back to seventeenth century when the holy relic was first brought to the valley during the reign of Aurangzeb and kept in Naqashband sahib Shrine. However, the shrine was small and could not cater to the huge rush of the people thronging to have a glimpse of the holy relic. Therefore, the emperor ordered the relic to be preserved in Hazratbal shrine.
Local people and people from distant places keep thronging the shrine to seek blessings and to get mesmerized by one of the great beautiful shrine. Hazratbal is the only domed mosque in Kashmir. The dome and the entire building have been made of immaculate white marbles, which reflects in the waters of the Dal and makes it a splendid view. The shrine is visited by people from all religions and it is a must visit shrine in Kashmir.
Hazratbal, however, is primarily a pilgrimage centre in Kashmir. The place defines the love of Muslims for their beloved Prophet (PBUH). The mosque shrine is a central worship place in Kashmir valley. Five to six fairs are organised in Hazratbal each year. The main fair is held on the night of Meraj, Shab-e-Meraj and on eidMilad-un-Nabi, the holy birthday of the Prophet (PBHU). The shrine wears a festive look on Fridays as well, as people from all corners of the valley come to the shrine to offer Friday prayers. The holy relic is displayed on Fridays and on all holy occasions. Besides it is usually on display in the glass casket inside the Holy Shrine.
Hazratbal shrine and its locale have a strange air attached to it. It is a place where your taut nerves will relax automatically under the shade of huge chinar trees and the cool breeze coming from the Dal makes you feel like you are in some part of the paradise. A full-fledged market is also available outside the shrine.