Lakes and Rivers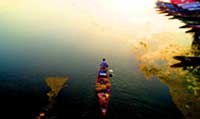 Jammu Kashmir is a wonderland of beauty. The place is surrounded by huge mountains, which remain covered with snow throughout the year. There are many glaciers in the region as well. The place thus, abounds in water bodies. Jammu Kashmir is known for its beautiful lakes and rivers. There are a number of lakes and rivers in each division of the state. Some scintillating meres are located in the state at some stunning locations. These meres are and waterways are a source of water to the agricultural land of the state. However, due to the mesmerizing beauty of the lagoons and the surroundings, these have become a tourist delight with a huge number of travellers coming to get charmed by the beautiful lagoons.
All the three regions of the valley are blessed with great lakes and rivers. Ladakh, being a cold desert also abounds in water bodies.
River Ravi
River Chenab
River Tawi
River Ujh in Jammu
River Jhelum in Kashmir
Indus River
Kishan Ganga River
Zanskar River
Suru River
Nubra River in Ladakh
The above are the some of the major rivers that flow in the state. People enjoy River rafting, water trekking or boat rides on the waters of these beautiful waterways. The rivers are calm at places and fast, furious and turbulent at other places.
Apart from these rivers many meres adorn the already beautiful land. The lakes are extremely beautiful, clear and scintillating. Most of the lagoons originate from the glaciers and are placed at a high altitude. The colour of the lagoons depends on the time of the day. The lakes in the state include
Mansar
Surinsar-Lake
Sanasar-Lake in Jammu
Wullar-Lake
Dal Lake
Manasbal
Anchar Lake
Kounsarnag Lake
Gangabal Lake
Sheeshnag Lake
Neelnag Lake
Tarsar
Hokarsar Lake
Kishansar
Vishansar
Gadsar Lake in Kashmir
Pangong Lake Ladakh
Tsomoriri Lake
Ruphsu Lake
Tso Kyaghar
Water bodies in
Jammu and Kashmir
are a treat to watch and be one with. The various opportunities of water sports like rafting, water skiing, water trekking, lake trekking are additional boons of this great natural reservoir of life. Jammu Kashmir government is taking steps to make the more lagoons accessible to the tourists. Some of the most beautiful lakes of the place are located at remote places at a high altitude, which need days of trek to be explored. The stunning beauty of these lakes make you feel like you are in some part of the paradise.