WILDLIFE IN JAMMU KASHMIR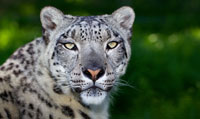 Having large and dense forests, the state of Jammu and Kashmir provides natural habitat to a variety of wild animals. The animals are found in the dense forests on the mountains. Kashmir has a National Park in Dachigam. A zoo also exists in Pahalgam. Many animals are found in Jammu Kashmir. These include lion, leopard, bear, fox, jackal, Barasingha, Musk Deer, Markhor.
ACHHABAL WILDLIFE SANCTUARY
The sanctuary derives its name from the famous 'Achhabal Garden' built by the Mughal emperors falling on the North-West of the Sanctuary. The famous Achhabal Nallah emerges from the North-East of the Sanctuary and merges finally into River Jehlum of Kashmir Valley.
SITUATION
The sanctuary is situated about 60km from Srinagar city and falls North-East of it and is 8km from Anantnag town as its district headquarter. The Sanctuary starts from famous Mughal Garden of Achhabal village to village Kachwan, comprising of 8 compartments viz. 1/RK to
STATUS
Initially the area was notified as 'AchhabalRakh' vide Cabinet Order No. 710-C of 1945, under Notification No. 2 dated 17.07.1945 and was accordingly upgraded with the status of Wildlife Sanctuary vide Govt. Order No. 128-FST of 1991 dated 13.05.1991.
AREA
The wildlife protected area of Achhabal Wildlife Sanctuary encompasses on an area of 11.92 square kilometers and is roughly rectangular in shape.
VILLAGES
The following villages fall along the periphery of the Sanctuary which are as Achhabal, Togrigund, Pingwan, khundroo, Sambrona, Nowgam, Pohlu, Kothar, Pushroo, Undoo and Kachwan.
---
RAJPARIAN WILDLIFE SANCTUARY
SITUATION
The sanctuary is situated about 100Kms from Srinagar about 46Kms from Khannabal in South East direction. Its catchment of Jehlum basin is located in the extreme South Western corner of Kashmir valley.
STATUS
Government has notified the area as Wildlife Sanctuary vide Cabinet Order No. 710-C of 1945, Notification No. 2 Dated 17.07.1945.
AREA
The Rajparian sanctuary encompasses on an area of 48.99 square kilometers.
---
OVERA-ARU WILDLIFE SANCTUARY
RIVERIAN VEGETATION
The most dominating tree species of the area is Kail (Pinusgriffithi). The other species in association with this includes the broad leaved species of Aesculusindica, Fraxinushookeri, Parrotiopsisjacqumentiana, Juglanos regia dotted Kail is also interspersed towards the upper limits and on ill drained sites. The constituent of the underside include Indogoferaheterantha, Lonicera species, Vibernum, Skimmia laurel, Jasminium species etc.
CONIFEROUS FORESTS
Fir (Abiespindrow) is the dominating species of this area and is also found in association with Spruce (Piceasmithiana) at 2300m. Fir (Abiespindrow) gives way to Abiesspectables in higher elevations. Kail (Pinusgriffithi) is found mix on exposed slopes whereas along the upper trees Birch (Betula utilis) occurs along the upper reaches (at Lidderwath). The woodland also occupies some sides of different nallahs.
ALPINE PASTURE AND SCRUBS
Mostly dominated by Birch (Betulautilis), unidentified grasses of glades, dotted at some places by spruce (Pisceasimithiana) with Rhododendron, Companulatum, Rosa and Rubus species, Juniperus, Indigofera, Primula, Anemone, Myosotis intercept at several places.
ROCK FACES
The vegetation found in this area is confined mostly to the hilltops and gulleys called 'Nars' and is represented by coarse grasses, Juniperous species and Rhododendron species.