Places to visit in Jammu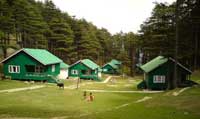 PATNITOP
Patnitop is a hill station in the Udhampur district of Jammu division of the Indian state of J&K. It is located on the National Highway between J&K and is the highest point of the road at a distance of 47 km from Udhampur and 112 km from Jammu. Patnitop is among top visited touristic places in the state.
For more information about
Patnitop
DODA
Located on the Batote-Badarwah road, Doda district is the third largest in terms of area after Kargil and Ladakh. The district was between 32o – 53' and 34o – 21' north latitude and 75o – 1' and 76o – 47 east longitudes. It is cold in climate with snowfall in winter. Originally known as Rafiabad, it developed only after been chosen as district headquarters. It is a market place for products of Guajjar, Bakarwal e.g., raw wool, wide's, skins, dairy products etc. Summer is best time to visit.
For more information about
Doda
KATHUA
Known as Gateway of Jammu and Kashmir, this district lies in south east of the state. It borders Punjab state of India and Pakistan. This distinction is unique to it. The two main rivers of the district are Ravi and Ugh, which are main contributors to the prestigious Ravi-Tawi irrigation complex. An industrial estate has come up here, where goods like cables, stainless steel utensils, cement pipes, electric goods, insulation staple and blended yarn etc. are manufactured.This tourist place is not visited that much.
POONCH
It is a border town situated within two kilometre of LOC. It falls between 33 degree – 25' to 34 degree – 01' north latitude and 73 degree 58' to 74 degree – 35' east longitude. Poonch is bounded by the districts of Baramullah and Pulwama of Kashmir valley in the north east and Rajouri district in the south. Poonch district is totally hilly and mountainous barring a few ow lying vales. It has varied climate depending upon altitude of the place. Poonch has a rich cultural heritage and distinct historical background with the great Mughals. The caravans of Mughal emperors for Kashmir through Poonch district in 17th century and that route is known as Mughal road. It was a Jagir before 1947. Maize is the staple food of the people. He people speak Gojri and Poonchi which according to Grison, is a sister language of Punjabi dialect Lendhi. Both the languages have rich folklore Potari and folk songs. The town is important from the defence point of view.
RAMBAN
Ramban is situated on the bank of river Chenab at a height of 710 metres. Ramban is an important town on Jammu-Srinagar National Highway 1A at a distance of 150 km from Jammu. Surrounded by mountains and cold places like Batote, Banihal and Gool, its climate is hot and dry liking that of Jammu. Desi ghee and anardana are found in plenty here.Ramban too has be on the touristic Map.
REASI
Located at a distance of 64 km from Jammu, bounded by Tehsil Gool-Gulabgarh in the north, Tehsil Sundarbani and Kalakot of Rajouri in the west, Udhampur in east, Tehsils Jammu and Akhnoor of district in the south. A historical fort named as 'Bhimgarh Fort', but generally also known as Reasi Fort is located in the town of Reasi on a hillock approximately 150 metres high. As per local initially the fort was made of clay which later on was reconstructed with stone masonry and was generally used by the royal family for taking shelter during emergencies. Presently the fort is the charge of the department of Archaelogy J&K government since 1989. Today the fort stands out as one of the important landmarks in the town. Salal hydroelectric project is near here. Desi ghee, anardana are marketed here. It is home of famous General Zorawar Singh.Reasi has been on the tourist place of Jammu since 1989.
SAMBA
Samba lies at a distance of 40 km from Jammu on Pathankot road. The district is known for calico-printing and Calendaring of cloth. Samba is situated on a hill on the National highway 1-A on the bank of river Basantar, bounded by District Udhampur in the North, District Kathua in the east, Tehsils and Bishnah of District Jammu in the west and on the southern side it has international border with Pakistan. Most of the area of Samba is Kandi area although some parts are forging ahead in agriculture production with the strengthening of Ravi Tawi irrigation Project. There is an old fort and an Industrial Estate. The district has a tradition of serving in Army being home of brave SambyalRajputs. Very few tourist visit Samba region.
UDHAMPUR
This is the most important town after Jammu. It is situated at a height of 70 metres at a distance of 68 kilometres. Most of the tourists pass by this area. It is an essential military station, head of the Northern command of defence. A road Dhar road connects Udhampur with Kathua. It is an important defence road. This district is rich with mineral deposits like coal, bauxite, magnetite, gypsum and lime stone. Honey, desi ghee and anardana are exported from here.