MONASTERIES IN LADAKH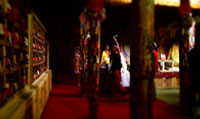 LADAKH is a spiritual place and often referred to as the "land of lamas". This land has preserved, in its most ancient form, the Tibetan Buddhism. Ladakh is a Buddhist majority place. People here are very much religious and follow their religion strongly. They have a strong faith in their religion and have not so far mixed it up with any modern aspects. The location is a primary factor for the faith of the people as also for its being preserved in its purest form. The climate and altitude is hostile and people of Ladakh seek refuge in their gods to protect them from the furies of nature. Many areas of the place remains cut off from the rest of the world for the major part of the world due to snowfall and thus they have been spared the cultural mix-ups. The Buddhist lamas and people worship in the great monasteries. These are the centres of worship, meditation, religious preaching and teaching. There are a number of ancient and modern monasteries, which apart from being a great source of religious inspiration for the local population, are also great sources of attraction for tourists across the globe.A large chunk of tourists coming to Ladakh come exclusively to visit the monasteries.
Monasteries are spread throughout the length and breadth of Ladakh. The Holy place displays a unique combination of architecture, history, beauty and faith. Many of the Holy places have a rich collection of Buddhist relics. The Holy places are located at isolated places far away from the hustle and bustle of life, making them a perfect setting for spiritual retreat. These are revered places and the architecture, location, culture, spirituality and the faith of the local individuals make them a perfect tourist delight.
More popularly known as Gompas, numerous monasteries are located throughout Ladakh. Many of these hold a high significance for the people of Ladakh, irrespective of the regions they live in.
Among the most famous monasteries are the
Hemis Monastery
Thiksey Monastery
Karcha Monastery
Spituk Monastery
Alchi Monastery
Sani Monastery
Ringdom Gompa
Lamayuru Monastery
Other significant monasteries
Bardan Monastery
Chemrey Monastery
Diskitand Hundur Monastery
Likir Monastery
Mashro Monastery
Matho Monastery
NamgyalTsemo Monastery
Phyang Monastery
Phugtal Monastery
Rhizong Monastery
Sankar Monastery
Shanti Stupa
Shey Monastery
Stakna Monastery
Stok Monastery
Stongde Monastery
Takthok Monastery
Zongkul Monastery