The Kashmir Golf Course at Srinagar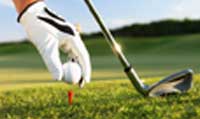 The
Kashmir Golf Course Srinagar
. With well laid out bunkers and hazards, interspersed between chinars & pine is a professional 18-hole course and has been the venue of many tournaments. The course has common fairways and a par of 70. Srinagar offers an exclusive opportunity for golf enthusiasts to play through an extended summer, from April to November. While the plains are boiling, Srinagar's temperate climate allows the golfer to play longer hours without getting tired.
Associated with history of Kashmir Golf Club is its famous pro man of many golfing facets, the 98-year old Ghulam Mohammad. In 1930, he was the first golfing professional in India. He has trained hundreds of aspiring golfers during his long career as a golfing pro. Ghulam Mohammad started life as a fore caddy in the early years of this century. Later, he went on to play to a scratch handicap for 30 years. Through time, he trained famous golfers of India: the late Billoo PG Sethi, the late Maharaja Hari Singh of Kashmir, the late Fakhruddin Ali Ahmed and J.S Pathak. He has also trained Chief Minister Farooq Abdullah who began playing golf since the age of 12, and today is living up to his teacher name. According to Ghulam Mohammad, "golf is like an addiction. You can't have enough of it."
THE GULMARG GOLF CLUB
The first Golf championship was played at Gulmarg in 1922. The Nedou's Cup was introduced in 1929. In 1930, The World beat Scotland. The same year saw the D.P. Vasu Championship for Women and the Children's Golf Competition. In 1931 the women's foursomes played at Gulmarg on the Lower Course. The Northern India Amateur Golf Championship was played from 1947 to 1953. After the troubled times of 1948 when golfing had come to stand still, the J&K government took over the maintenance of the now 18-hole course. Enthusiasts welcomed the revival of golf in Gulmarg in 1954 when many events, such as Duncan Vase, O.P. Vase, Civil Cup and Nedou Cup tournaments were held. Peter Thomson Associates of Australia redesigned and laid out the golf course to fit it with its natural beauty, by changing the location of greens and making it more challenging. The Northern India Championship was played at Gulmarg till 1989 when it had to be shifted to the Delhi Golf Club due to problems in the Valley.
Gulmarg, with its rarefied atmosphere, is natural all the way. As the ball is hit, it 'whistles' its way to the next hole. The turf, since it lies buried six to eight feet under snow for five months of the year, is soft. The greens have a combination of moss and a high variety of grass and natural slopes, which are fast to play on, and the thin air carries the ball further. Golfing at Gulmarg's 18-hole course, with a par of 72, is a unique experience.