POPULATION OF LADAKH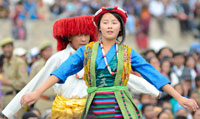 Ladakh is the least populated region of Jammu Kashmir. Being situated at a high altitude, not many areas are habitable. Hence the inhabitants of the region are very low as compared to the other two provinces of the state. The population of Ladakh region according to the survey of 2011 conducted by the Government of India is 2.90 lakhs. This forms a meagre percentage of the total inhabitants of the state. Ladakh comprises of only two districts- Leh and Kargil. Ladakh is a cold desert and most of the areas are devoid of any vegetation. The temperature hits extremes often and the living is not easy here. These are the prime reasons why this land is so sparsely populated. The local residents are very hospitable and welcome the guests and the tourists with warm feelings and look after them, even when they have little food to spare for themselves. Majority of the residents are Buddhist followed by Muslims.
Out of the two districts of the region, Leh is more inhabited thanKargil. Leh has a larger area than Kargil and many parts of it are under the control of China, while parts of Kargil are controlled by Pakistan. The population however includes only the parts under the occupation of India. Unlike other regions of the state agriculture is not the primary occupation of the state. As Ladakh is a desert, most of the areas are not cultivable. The land is rocky with little pebbles and huge rocks scattered everywhere. The living for the local population is hard and most of the families have to toil hard to make both ends meet. However the people are very much supportive and hospitable and help each other and make their lives better.
Two main districts of Ladakh