ROCK CLIMBING IN KASHMIR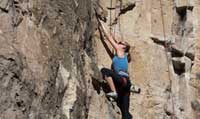 Jammu Kashmir is a valley surrounded by a number of great mountains and mountain ranges. A number of mountain ranges, including the mighty Himalayas are also located in this North Indian state. The Himalayas are the supreme destination for adventure sports. Climbing, a recent inclusion in the genre of adventure sports has become one of the most popular adventure sports at present. The sport started in UK in 1960.
Himalayas is the best place for rock climbing. The mountains of the Himalayas have a great height with a varied and rugged topography. Rock climbing is fairly a recent sport in Jammu Kashmir and it was started here keeping in view the great popularity of the sport.
Rock climbing is pretty similar to that of mountaineering and it consists of mounting a mountain or a rock face using only a safety rope.
Jammu Kashmir
has become a popular destination for rock mountaineers across the world. There are a number of stunning mountain ranges in the state that are ideal for climbing. Kishtawar, Zanskar, Kashmir and Ladakh have mountains that are suitable for mountaineering. The best known peaks in Kashmir are Kolahoi, Harmukh, Tattakuti, PirPanjal Range and other many other mountains in Sonamarg and Pahalgam.
Peaks in Kishtawar include Sickle Moon, Eiger, Brammah-I, Brammah's wife, Crooked Finger, Flat Top, Catherdral, Barnaj-I and II, Arjuna, Agyasol, Shivling and many others.
Zanskar Range surrounds the great Nunkun massif. There are a large number of other mountains that are suitable for an adventurous, exciting and thrilling rock climbing.
Rock mountaineering can be ideally done from mid-May till the end of October. As most of the mountain peaks remain snow-clad during rest of the year. In Ladakh the main climbing season is July to August. The climbers are assisted by Army and Air Force. Most of the mountaineering regions are linked by high-frequency radio to Srinagar - the base of rescue operations.
Rock climbing has been introduced recently in the valley and not many companies deal with climbers. So, you may have a hard time while finding equipment for your adventure. It will be wise to bring all your necessary equipment along with you. Other daily and routine items are readily available.
For further information please
contact us
.