EID-UL-FITR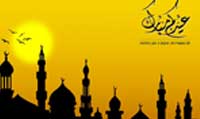 Eid-ul-Fitr is the Muslim festival celebrated in Jammu and Kashmir. The festival is celebrated according to the Lunar Calendar and occurs at the end of the Holy Month of Ramadhan. Eid-ul-Fitr is celebrated on the first day of the 10th month of the Islamic Lunar Calendar. The festival is celebrated usually for two days, however, only one day is the public holiday in the state. Eid-ul-Fitr marks the end of the holy month of Ramadhan, during which Muslims hold fast from pre-dawn to sunset. The festival is celebrated as the people believe that all the sins of the people who fast with sincerity are forgiven.
The word Eid literally means happiness. It is the occasion of joviality and happiness for Muslims. On this day people in Kashmir go for prayers, chanting hymns, to the Eidgah, a large ground where thousands of people gather to pray. People pray for the peace and prosperity of the world. After the prayers, people hug each other and wish happy eid to each other. The people then return to their homes.
The festival is an occasion of merry making and people of the valley, who generally love food, prepare great feasts and relish them in lunch and dinner. A number of dishes are prepared. People visit the houses of their relatives and neighbours to wish them happy eid.
People wear new clothes and as a token of happiness, the elders give money to children, which make them happy. Great fairs and markets are organised on the occasion, which last for weeks together. Eid-ul-Fitr is one of the two Islamic festivals of Muslims.
The festival is celebrated according to the Islamic Lunar Calendar and thus the dates vary each year. Generally the festival is celebrated about 10 days ahead of the date on which it is celebrated in the previous year. This year the Eid-ul-Fitr falls on 9th August, subject to the appearance of crescent.