Vaishno Devi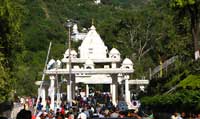 Vaishnodevi is another important cave temple located in the state of Jammu Kashmir. The journey to the Holy Shrine of Vaishno Devi is a wonderful expedition up to places of real importance to Hindus as these are the places where Vaishno Devi is believed to have observed various disciplines and penances. The journey ends at the Holy Cave in which she is believed to have merged her human form with the celestial forms of her creators.
The temple is located 12 km away from the town of Katra in Jammu division of the state. It is one of the most revered temple of Hindu religions. The temple sits at an altitude of 5300 feet. The temple witnesses a huge rush of devotees every year. It is the second most visited shrine in India with an average 8 million pilgrims thronging the place every year. The shrine is maintained by the
Sri Mata Vaishno Devi Shrine Board
.
SHRI MATA VAISHNO DEVI SHRINE BOARD
Official
The cave shrine lies nestled in the snow-clad Himalayan Mountains and dense forests. It is located on the TrikutaMountain at an altitude of 5,300 feet. The Vaishno Devi temple is dedicated to Shakti and is located on the hill in Katra, Jammu.
Vaishno Devi pilgrimage begins in Katra and includes a 13 km uphill trek on foot to reach the holy place. The devotees believe that whosoever walks up the hill to the holy shrine all his wishes are fulfilled. The devotees get the strength and inspiration from the goddess to mount up the great heights to the temple. The journey is rewarded by the Darshan of the Mother Goddess inside the Holy Cave. These Darshans are naturally formed by rocks, called Pindies. There are not any statues or idols inside the holy cave. The cave is open for Darshans round the clock.
The cave is accessible by road till Katra. Around 13 km have to be travelled on foot. The nearest train station is in Udhampur. The nearest Airport is in Jammu, where flights operate to and from all the important places in India. Katra is a well linked area of Reasi district of Jammu. However the cave is heavily crowded as it receives over 10 million devotees every year.
Distances from major cities:

48 km from Jammu
650 km from Delhi
35 km from Udhampur
410 km from Chandigarh
80 km from Patnitop