TREKKINGIN JAMMU AND KASHMIR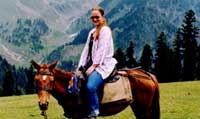 Jammu Kashmir is the northernmost state of India and the India on its north is bordered by the mighty Himalayan Range of Mountains. Many of these mountain ranges are situated in the state of Jammu and Kashmir. Not confusing trekking with mountaineering or hiking, these mountains provide tremendous opportunities for hiking. The numerous confusing mountain travails throw a real tough challenge to the tourist to explore them.
Trekking is an adventurous journey which is often long and is usually done on foot to remote places with no or little means of transport. It is not undertaken by ordinary people and needs a tough mental character and strong determination to come over all the hurdles of the journey. Hiking is a great advantage to the voyagers and a great source of knowledge and enjoyment. Most of the hiking itineraries of the world are filled with natural wonders and secrets, which leave anexplorer amazing and wondering. The journey then becomes fascinating, charming and pleasant instead to being tiresome. The walking adventure is however filled with numerous challenges which form the true essence of a trekking adventure. Braving high altitude sickness, fury of nature and many more challenges is the quintessential requirement of any challenge. Then there are those mild adventures undertaken for mere pleasure that too have their benefits and advantages.
Jammu Kashmir has offers tremendous opportunities for hiking. It is a walking paradise. The mountains in the region are filled with numerous hiking trials that invite a trekker with great challenges to explore them. Many of the mighty mountain peaks of the world are located in this state. All the three geographical regions have an immense trekking map. Hiking of all kinds can be done in the lap of the nature. Kashmir in one of the world's most beautiful places is always a wonderful and dreamlike experience.
Various types of Trekking

Mountain
Hill
Lake
Water
Pilgrimage
And a lot more can be done in this beautiful place. The trekking routes are filled with wonder and challenges that makes your journey wonderful and exciting. Trekking in Jammu Kashmir also provides you an opportunity to explore the more beautiful but otherwise inaccessible places. Undertaking the challenge in this part of the world rewards you with some of the magical views and places of the world. The beauty of the place refreshes you even after months of hectic expeditions.