CULTURE AND TRADITION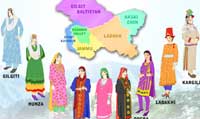 Jammu Kashmir displays a diverse blend of cultures. It is a place where culture varies from place to place. In Kashmir the dialect changes after every 10 Kilometres. The demographical variation of the state is spiced up with the specific diversions in philosophy, making it truly remarkable. Each culture is unique and interesting. The three regions display a great diversity in each part of their values including music, food, lifestyle, dance, tradition, festivals and much more. It becomes even more amazing when one witnesses the cultural diversions within the divisions.
People in Jammu Kashmir have been very conservative as far as their values are concerned. They like to stick to their culture and decades of interactions with the philosophies of other places have not corrupted its own culture. This fact, however, does not indicate that Kashmiris are orthodox or backward, but they are simple and warm hearted.
People in most parts of Kashmir valley speak Kashmiri language; the dialect, however, changes remarkably after every 10 km. People in Jammu mainly speak Dogri and Ladakhisspeak Ladaki People usually wear long and lose clothes. In winters the main item of clothing is the long gown, Pheran, which protects them from the chill. The Pheran is different for men and women. Women wear embroidered Pherans in summers as well. Kangri, fire pot, forms an essential part of winter and you will be amazed to see every Kashmiri carrying one inside their Pherans. They take Kangris to bed as well and keep it under their feet to keep themselves warm.
Delicious Kashmiri Wazwan forms the soul of the cuisine in the valley. However, this food is served on special occasions like marriages. Normally people eat rice and vegetables in their lunch and dinner. People have salty tea in the breakfast along with bread made by the local baker. Kashmiri bagel is particularly tasty and popular. Food in Ladakh is mainly Chinese.
Music of Kashmir is mainly Sufiana. The traditional folklore of Kashmir is the Chakkirwhich is sung by a chorus of singers led by the lead singer. Various musical instruments used include Harmonium, Sitar, Santoor, Rabab etc. The major dance form is the "Roaf" performed by women, who make aesthetic movements while they sing. The songs are suited for different occasions. People in Ladakh perform their own traditional dances, which have a religious significance. These dances are performed on special occasions like festivals.
Jammu Kashmir has also made important contribution to the literature of India as well. Many poets, dramatists and story writers are known for their great works.
People in entire state are warm-hearted and hospitable. They make you feel comfortable and are really helpful. Don't be surprised if you get invited in some marriage or at a party and served with delicious wazwan. Kashmiris love food and they serve their guests with the choicest of dishes.