Pahalgam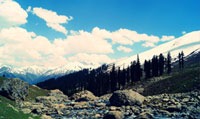 Kashmir in its south is probably at its best. In the centre of the beauty of South Kashmir lies Pahalgam. It is yet another heavenly place in Kashmir Valley. This beautiful village resort is located in the South of Kashmir at a distance of about 96 KM from summer capital Srinagar, at an altitude of 2130 metres. It is located at the confluence point of Lidder River and Sheeshnag Lake. This hill resort is more of a recreational resort, where one can enjoy the best of the nature. This Lidder Valley is blessed with an astounding beauty and is a favourite picnic spot for the local as well as the foreign tourists. There are a lot of things to do in this touristic place, the best among them being "to do nothing". The region is most visited by the people seeking relaxation, leisure and a pause from their routine life activities. However there is more to Pahalgam than meets the eye.
Pahalgam
is the third most frequented place in Kashmir after Srinagar and Gulmarg, although no less in beauty. It is a place to be visited during summers and often acts as a day trip at leisure. It is a place worth a stay as well. The place is multi-dimensional. Millions of tourists visit Kashmir every year and not all come with the same reasons. Some people visit to have a romantic trip with their beloveds, some want to enjoy the bounties of nature, some travel to this part along with their families to spend a quality time, some want to escape from the daily routines of their life and take a break in the lap of the nature.
Pahalgam
is tailor-made to cater to all the kinds of people with different intentions of visiting. The romantic atmosphere, the lush green meadows, the bubbling streams and rivers singing and dancing in mirth, the cool fresh breeze, the architectural huts for stay, cosy market, Kashmiri handicrafts and a lot more makes it an ideal destination for tourists. There is a zoo in also for those who are like different kind of animals. You can find monkeys, bear, jackals and many other animals there.
Modern area is a bit commercialised, although the beauty is same. A children's park has come up where you can take rides, river rafting in the river Lidder has been introduced. You can play golf in the golf park as well.
Pahalgam has another importance as well. It is an important baseground for annual
Amarnath Yatra
as well. Every year a huge number of Hindu pilgrims come to Pahalgam to start their holy pilgrimage to the Cave Shrine of Amarnath.
HOW TO GET THERE
You can travel to Pahalgam by road. The entire journey from Srinagar, if you do not make a halt midway, takes around two to three hours, if you are travelling in a private vehicle.There is no railroad and helicopters are rarely available. If you are driving from Jammu, you can take the road opposite to Srinagar near Khanabal, some 45 km before Srinagar. Transport is readily available. If you want to board a passenger vehicle, you need to take a bus to Anantnag (locally known as Islamabad) and from there you can get a vehicle to Pahalgam.