JAMMU KASHMIR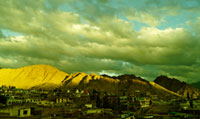 Jammu and Kashmir
is one of the largest states of India. The state is set like a jewelled crown in the map of India. It is located in the lap of The Mighty Himalayan Range. It is a beautiful place blessed with a heavenly landscape, majestic snow-clad mountains, scintillating lakes, happy murmuring streams, long clear rivers, colourful blossoming orchards and much more. This Northern most state of India consists of three geographical divisions – Jammu, Kashmir and Ladakh. All the three divisions are diverse in almost everything. While you travel from one division to another, it seems as if you have travelled to some other world, far away from the previous one. However, only one thing remains constant throughout all these regions -the unparalleled beauty and decor. The three regions of Jammu Kashmir are differently but uniquely beautiful. While Kashmir is a fertile, green place with a moderate climate, Ladakh is a cold desert with extreme climate and barren Rocky Mountains and Jammu is a sub-tropical region with a comparatively hotter temperature. The altitude of these regions also varies. Jammu is the lowest elevated land followed by Kashmir and then Ladakh with the highest altitude among these regions. The altitude ranges from 1000 to 28250 feet. The state has two capitals- Srinagar, the summer capital, and Jammu, the winter capital. The state consists of 22 districts, which includes 10 districts in Kashmir, 10 districts in Jammu and 2 districts in Ladakh.
Geographically, the Jammu and Kashmir state is divided into four Zones – The mountainous and semi-mountainous plain commonly known as Kandi belt; Shiwalik ranges and other hills; PirPanjal range and mountains of Kashmir; and the Tibet tract of Ladakh and Kargil. The state shares its borders with Pakistan, China and Tibet.
Asthelandscapechanges from region to region, sodochange the people, their tastes, their interests, their activities, their language, their religion and their culture. Jammu& Kashmir is a land with a lot of diversity. However all the regions are uniquely beautiful and the people are hospitable. The culture and the land are interesting to be known and understood. It is one of the most frequented tourist places in the world. Many beautiful tourist resorts have made it one of the most favourite destinations for tourists across the world. Beautiful meadows, orchards, rivers, lakes, springs, brook and a lot more attracts tourists to this bewitched land. The state is also a favourite place for trekking, hiking, rock climbing, river rafting and above all skiing.