River rafting in Kashmir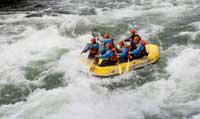 River rafting is comparatively newly introduced adventure sport in Jammu Kashmir. There are many rivers in the valley with fast and furious waters.The rivers and lakes of the valley are one of the many natural advantages of the place. These water bodies are a great source of attraction for tourists. The water bodies however provide great opportunities for adventure sports, which is an activity oriented way of discovering new and more beautiful places in the state. River rafting is one of the best and most adventurous adventure sports of all the water sports. Jammu Kashmir has also kept pace with other places in starting and organising river rafting in Kashmir.
River rafting in Jammu Kashmir is done on three rivers – Lidder in Pahalgam, Sindh in Sonamarg and Zanaskar in Kargil, which resembles Colorado USA. Gliding down on the waters of the beautiful place is undoubtedly the best way of experiencing Kashmir. Rafting in the valley has gradients that cater to each kind of rafters. There are gentle gradients in Lidder, which suit the beginners very well. Sonamarg is also a good place for it. Sindh moves furiously through the area and thus makes the adventure really challenging and exciting for the rafters. Rafting in Sonamarg is very tough.
River rafting in Ladakh is particularly exciting and wonderful. That too inZanaskar is a great opportunity to enjoy the mesmerizing natural beauty of the place with deep gorges, mighty snow-clad mountains, villages, monasteries and wildlife. Rafting on the mighty Indus River is an ultimate experience. It has stretches for professionals and beginners as well. The best stretch runs in white water lies between Spituk and Nimu which is rated 4 – 5 in the international river rafting grading scale. After that the stretch is easies up to Karu, which is perfect for beginners, where they can get their basic training.
Rafting in the rivers of Kashmir is not easy. The challenge of the turbulent rivers is really very tough. The furious rivers are fed by the waters from the melting ice of the mighty Himalayan Mountains. The rivers are fed by innumerable streams as they run their course through huge twisting boulder strewn beds, down deep gorges and breaking into silvery white rapids.
Annual Championship is conducted at Sonamarg, Kashmir. Commercial rafting is also underway.