gulmarg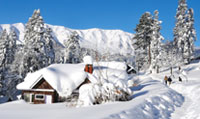 Gulmarg is one of the most beautiful places of Jammu Kashmir. It is the most frequented place in entire state after Srinagar. The best thing about Gulmarg is that it is a year round resort. One can visit it any time in the year and enjoy the numerous natural as well as man-made bounties that this beautiful place is blessed with.
Gulmarg is a lush green meadow situated in north Kashmir at a distance of 56 Kilometres from Srinagar. The total distance from the nearest Airport can be covered in around 2 hours by a car. The nearest Airport is in Srinagar and the nearest Train station is in Mazhama area. The distance from this railway station is about 40 Kilometres. It is a heavenly place and is beautiful hilly pasture surrounded by lofty snow-clad mountains. There a number of reasons why this is among the most frequented place in Jammu Kashmir and in entire India.
As already mentioned place is a year round resort. In summers it is a lush green meadow covered with soft grass and it becomes a perfect picnic spot. The drive to Gulmarg from Srinagar goes along a beautiful scenic all-weather road. The drive is comfortable and taxis are readily available. The meadow is large and many people can enjoy their picnics simultaneously. The nearby alpine mountains are very beautiful and you can occasionally find monkeys and other harmless animals in them.
The chief attraction for the picnickers is however the cable car, Gondola. Gondola cable car is one of the world's highest and longest. The cable car was originally meant to take skiers up to the higher and tougher slopes, but it became a favourite among the picnickers as well because it is a beautiful way to access the higher and more beautiful places around It like Khilanmarg, Afarwat, Alpatthar lakes and many more. These places are even more beautiful than Gulmarg and remain snow-clad for the most part of the year.
However, the prime reason for the fame of area is not because of its being a tourist spot, but because of its slopes that are at par with the international standards of skiing. Gulmarg has been rated as one of the top five ski resorts of the world by CNN. The place witnesses a huge rush of skiers and tourists during winter. It is an important winter sport destination in entire Asia. When the meadow gets blanketed under splendid white powder from the heavens during winters, it adopts a beauty that can't be found anywhere else in the world. Gulmarg when naturally turned white becomes a place that excels all the other places in the world, even much adored Switzerland. It receives some of the heaviest snowfall in the world and then it becomes a great ski destination, which is suitable for the beginners, intermediaries and expert skiers. The actual meadow is an 8 shaped bowl which turn into baby slopes with the first snowfall in around November. These baby slopes are ideal for beginners to ski on. Also the bowl is immense so that as much as a thousand skiers can ski over it at a time. For intermediaries and experts tougher slopes in higher mountains of Khilanmarg and Apharwat is the ideal place. The higher mountains can be accessed on foot, pony or in gondola. Heli-skiing is also available for adventurous skiers.
Prime Attractions of Gulmarg

Skiing & Heli-skiing

Asia's one of the most famous Heli-skiing resorts. Come December, and the verdant green slopes of Gulmarg are blanketed with snow, forming some of the finest natural slopes for ski runs of all levels.



Golf Courses

Golf Course is one of the world's highest green golf courses, as well as a clubhouse, which is a historical building in its own right. For the would-be golfer, there are golf sets on hire, pros to instruct one in the game, and temporary memberships. Naturally, these facilities are available to players as well, except that serious golfers usually carry their sets along.
Adventure Sports

Skiing

In winter, Gulmarg acquires a new persona - that of the country's premier skiing resorts. Skiing, to many who watch it on TV, seems like a very elitist sport, requiring a high level of training and expensive equipment. They are surprised, when they visit the area for a day's expedition to "see the snow", that others with the same level of physical fitness and training are skiing down slopes. Gulmarg is the ultimate beginner's skiing resort. One doesn't require a heavy woollen wardrobe - slacks or a SalwarKameez will do fine. One will also be able to drift to one of the many Ski shops and hire skis, sticks and goggles. Just find yourself a ski instructor and set off down a slope.



Gulmarg Gondola

Gondola, a scenic hamlet in Gulmarg, is renowned for the beautiful surroundings and pleasant ambience. The village is located at the picturesque backdrop of majestic and lush green Himalayan peaks. One can view the eye feasting natural beauty all around the village. The village is apparently calm and unexplored.

The major attraction in Gondola is the Gondola lift. Gondola lift is a cable car operating between Gondola in Gulmarg to Kongdoor. The enjoyable pleasure trips in the cable car are breathtaking and offer an experience for lifelong memory. The exquisite view of the down hills and greenish valleys are really enchanting for any nature lover.