LADAKH CLIMATE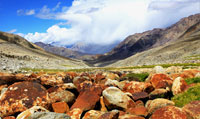 The climate of Ladakh is hostile by any measure. The temperature goes to extremes at times. Most of the areas of the region remain cut off from the rest of the world in winter due to heavy snowfall. Most of the areas are inaccessible.It is the highest, driest and the coldest region of India. It is a cold desert and most of the areas are devoid of any vegetation. Winter lasts almost one-third of the year. The temperature often goes to extremes. While in winter you may have frost bites due to a low temperature, in summers sunburns are caused due to extra heat and lack of moisture in the air. The rainfall is very low as the region lies in the rain shadow area, where monsoons reach without any moisture at all.
Ladakh is situated at a very high altitude. It is the world's highest elevated and inhabited land. It is situated in the Karakorum Range of the Himalayas. These factors combine together to determine the climate of Ladakh.Having such climatic conditions, the trip to
Ladakh
is never going to be easy. Being at high altitude can be hazardous for health if necessary precautions are not taken. So, it is always advisable to spend a day or two at places with a comparatively lower altitude, so as to acclimatize with the local conditions. This acclimatization becomes important if you are planning a trek into the mountains of the region.
This being said, area still remains one of the most visited paces on the earth. Things that are hard to achieve are always too delightful. The thing that makes Ladakh a delightful place is its serenity and its calmness. The atmosphere is quiet and calm. The sky is usually clear and dazzles with stars during the night.