Monasteries In Jammu And Kashmir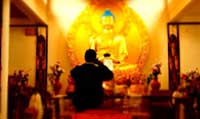 Jammu Kashmir is a spiritual place. The place exhibits a unique religious diversity and harmony. People of all faiths follow their religion very well. They perform their religious duties with zeal and zest. Amid their prime religious duties is the construction of religious places for worship. This is the reason Jammu Kashmir is abounds in mosques, temples and monasteries. With time, however, these places did not remain only places of worship, but also became interesting tourist attractions as well, with people from far off places coming to have a glimpse of the artistic structures and the marvellous design of these places and also to pay homage.
While you find mosques and temples in almost every part of the state, monasteries are mainly confined to the Ladakh region as it is the region with most of the Buddhists.The Buddhist lamas and people worship in the great monasteries in Ladakh. These Gompas are the centres of worship, meditation, religious preaching and teaching. There are a number of ancient and modern Gompas in Ladakh, which apart from being a great source of religious inspiration for the local population, are also great sources of attraction for tourists across the globe. A large chunk of tourists coming to Ladakh come exclusively to visit the monasteries.
Monasteries are spread throughout the length and breadth of Ladakh. The monasteries display a unique combination of architecture, history, beauty and faith. Many of the Holy places have a rich collection of Buddhist relics. The Gompas are located at isolated places far away from the hustle and bustle of life, making them a perfect setting for spiritual retreat. These are revered places and the architecture, location, culture, spirituality and the faith of the Ladakhis make them a perfect tourist delight.
For a tour of monasteries, you will have to spare enough time and travel to Ladakh. Being in Ladakh is in itself a great thing. In Ladakh, one feels like one has come in some other world. You tend to forget everything that bothers you in your daily life. Ladakh has a charm and that charm lies in the fact that there is nothing to do in Ladakh, just slow down and relax. And then the visit to monasteries is an additional boon. TheseHoly places have a strange eerie atmosphere in them. They cast a spell on you and charm you beyond imagination. The Gompas are places where you need to sit down and relax. The local population is very co-operative and at the same time very conservative about their religion and religious places, so make sure to uphold the dignity of the places.
Some of the best known monasteries of the region are

Hemis
Thiksey
Karcha
Spituk
Alchi
Sani
Ringdom
Lamayuru
Other significant monasteries include

Bardan
Chemrey
Diskit
Hundur
Likir
Mashro
Matho
Namgyal Tsemo
Phyang
Phugtal
Rhizong
Sankar
Shanti Stupa
Shey
Stakna
Stok
Stongde
Takthok
Zongkul
All these monasteries are located in different areas far off from each other. So, you need to choose carefully the monasteries that you want to visit, according to your time. All Holy places are a must visit.