High Altitude Golfing in Kashmir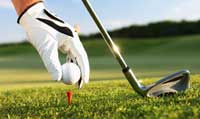 Another beautiful feature of the gorgeous vale of Kashmir is golfing at a high along with low altitude. Kashmir valley is a beautiful place, where natural beauty abounds. The surroundings are green. Trees, chinars, orchards, gardens, lakes and rivers adorn the splendid land of great beauty. Amid these beautiful things has been developed some other beautiful and interesting places, which make the place even more enjoyable and pleasant. Golf parks across valley are one of the best things in this regard.
Kashmir has some of the most beautiful and standard golf parks. The parks are very popular among the locals as well as the tourists. The parks are of international standard, though no international event has been held here. Kashmir boasts of the world's highest 18-hole course in Gulmarg. There are golf courses in Srinagar and Pahalgam as well. Playing Golf in Kashmir valley, in the lap of the fascinatingly beautiful nature is an experience par excellence.
Gulmarg is actually a lush green meadow and part of it has been developed as a golf course, which has become famous as the world's highest 18-hole golf course. Many people visit the course just for its beauty and not for the game. The course is very beautiful and has been fenced to restrict the activities there, unless it compromises the standard of the course. Gulmarg is located at an altitude of about 9,000 and playing golf at such an altitude is wonderful. The beauty of the meadow is an additional boon of the trip.
Golf course in Srinagar city centre Lalchowk, near the Tourist Reception Centre is also quite famous. It is also of a good standard. Playing golf here is also wonderfully pleasant. The best thing about this golf course is that you don't have to travel much. The golf course is at a walkable distance from the Tourist Reception Centre. It is just 8 km away from the main Airport.
The third main golf course is in Pahalgam. Pahalgam in South Kashmir is yet another beautiful tourist resort, which has been commercialised of late, without compromising on its beauty. Amid various amusements, a golf course has come up in the area. Pahalgam is also a hill station and located at a high altitude. The course is equally beautiful and standard. Golfing in Pahalgam, amid great natural beauty, dancing River Lidder and splendid greenery is a charm. The place is very beautiful.