BUDDHISM IN LADAKH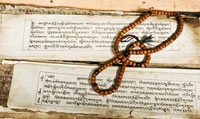 Majority of people in Ladakh region are Buddhists. These people practise an ancient form of Tibetan Buddhism. As the land remains cut off from the rest of the world for most part of the year, the Buddhism has remained pure and free from any modification due to the process of modernisation or inter-cultural interactions. This however, does not signify that Ladakh has not moved with the advancement of age. The fact that religion in the area is pure has a lot to do with the geographical and topographical conditions of the area. The climate and the environment are hostile and people keep their faith in their Creator to prevent them from any calamities.
Buddhism in Ladakh is very old and is believed to have come to the region from two sources
The first source is traced back to 1st and 2nd centuries AD. During the period Ladakh was ruled by local chiefs who governed small principalities.
The other source dates back to 10th - 11th centuries. This began with the setting up of Namgyal dynasty. During this period Buddhism received King's support and so spread quickly.
The first period is a vague and very little is known about it. From first century BC to fifth century AD, Ladakh was ruled by the Kushanas along with eastern Afghanistan and north-western India. It is believed that they soon converted to Buddhism. Most people believe that belief came to
Ladakh
through Tibet; however it came to Ladakh through Kashmir. The belief that Religion came from Tibet is because of the fact that Buddhism in Ladakh is deeply impacted by Tibet as it is located close to it.
Buddhists worship Buddha as the deity who has attained freedom from the circle of birth and death, termed Nirvana. There are many incarnates of Buddha known as Bodhisattvas. These incarnates of Buddha are worshipped in the monasteries throughout Ladakh. Spiritual leader of Buddhists is called Dalai Lama and is considered to be the greatest leader by the Buddhists.
Religion holds an important place in the people of Ladakh. They follow their religion with zeal and fervour. People have a strong faith and prayer flags and holy mantras can be found everywhere. People celebrate a number of festivals every year. These festivals have a tremendous religious significance in the lives of people of Ladakh. The festivals are celebrated with great religious passion and people take part in these religions actively.
The Central Institute of Buddhist Studies is located in Ladakh. This is a leading institute for study of Buddhism. Religion forms the spiritual core of Ladakh. It forms the very essence of culture in Ladakh.