WATER SKIING IN KASHMIR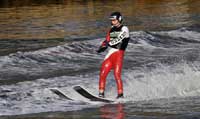 Water skiing in Kashmir is another beautiful adventure and a great way to become one with the splendid beauty of the mesmerizing land. Skiing on water is a wonderful adventure and when it is done on some of the most beautiful lakes in one of the most beautiful places on earth, the joy increases manifold.
Water skiing in Kashmir
is a great chance to be mesmerized by the beautiful lakes of the valley. Water skiing is done on all the major lakes in Kashmir, including Dal Lake and Nagin Lake. The gear is readily available.
Water skiing in Kashmir has been launched recently with the aim of attracting more and more people to this bewitched land. Making a splash in the beautiful waters of the lakes of Kashmir is simply wonderful. Water skiing is similar to that of surfing, but it is faster and much more exciting. While in a boat, you calmly enjoy the beauty of the lake without touching the water; during you glide on water while you are tied to a boat. The adventure is really exciting. Water skiing is fairly easier than other forms of snow skiing, you just need to maintain your balance and be sharp mentally. This sport is multi-dimensionalwhere you can excel others in many ways and flaunt your talent and skills.
In Kashmir water skiing can be done in beautiful Dal Lake, Nagin Lake, Manasbal Lake. There are privately owned open bathing boats in all the three lakes that hire out motorboats, skies, motor launches, other requirements and also professional instructors. A government run water ski facility centre is also available. Water skiing in Kashmir lakes is absolutely safe and done keeping in mind all the health standards.
Of the many water sports, water skiing has a respectable position and is absolutely wonderful. It is actually done on sea water, but that can be dangerous and hence doing it on lakes is a better and safer option. Kashmir valley offers you a tremendous opportunity of water skiing on its beautiful lakes amid spectacular surroundings.