Kashmir Hotels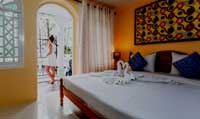 Like anywhere else in the world, hotels are available in Jammu Kashmir for the stay of travellers and tourists. There is a long chain of hotels in Jammu Kashmir. The hotel provides a quality stay and service to their guest and makes their stay comfortable. Guesthouses in Jammu Kashmir are located at beautiful scenic spots, which provide you a wonderful view from the window of your room. The guesthouse staff is usually well trained, equipped and professional and at the same time very supportive and hospitable and provide their guests the top quality services according to the standard of the Motel.
In this part of the world, five star accommodations are hardly found. There a few hotels, however, that have earned a name in their services and cater to high-budget tourists. The prominent names among these are the Grand Mumtaz, Grand Palace, Taj. These hotels provide a top quality service to their guests with almost everything ready-at-hand.
Guesthouses are found in almost every tourist resort of the state. More and more inns are coming up in view of the huge turnout of the tourists in the state. The hotels have big rooms with attached bathrooms with both hot and cold water, television, beds and all other facilities that are generally required on a tour. The guesthouse charges vary according to the standard of the accommodation.
Given the great rush of tourists, you may find it difficult to find a room at the peak of season. It is therefore advised to book your hotel online as the facility is available with almost all the Motels. Alternatively you can contact your travel agent or the travel company you are travelling with, in Kashmir for the booking.
There are many small guesthouses in Kashmir as well. If you do not find a good one, it is better to check in one of these than to wander in search of the guesthouses and drain away the pleasure of the tour (though even these small guesthouses are booked at the peak of the season and therefore hard to be found).
Hotels in Jammu Kashmir provide top quality service that you may find in any other part of the world. This service is coupled with the unique hospitality of Kashmir, keeping the tradition alive, that you may not find anywhere else in the world. The people here are very much concerned and look after their guests very well.
Hotel Facilities
Dining

Multi Cuisine
Indian
Continental
Chinese
Tandoori
Kashmiri Food
Coffee Shop
Thai
Services

Classily Furnished Rooms
Apartment Style and even Hut style
Rooms always have Private Bathrooms - Showers
Room Service
Laundry & Dry Cleaning Services
All major credits cards accepted
Doctor on call
24 hours. STD, ISD, Fax, Internet in Business House
Thai
Well known hotels
There are numerous hotels in the Kashmir valley, located around the Dal Lake, Lal- chowk and even downtown now days. Offering a relaxed stay to the travellers, these hotels deliver breath-taking sights of the beautiful locales of Kashmir. There are several, standard – Budget and even 5 start – 4 Star hotels in the valley of Kashmir, each serving to the wishes of a particular class of people. Some of the leading top notch hotels of Kashmir are:
TajVivantaSrinagar
Talit Grand Palace
Hotel- New Prince Inn
Batra Hotels and Residences
RK Sarovar Portico
Ahdoo's Hotel, Residency Road
Akbar Hotel, Dal lake
Broadway Hotel
Centaur Lake View
Imperial Lake View
Lake Isle Hotel
Madhuban Hotel
Parimahal Hotel
Ruby Hotel, Lambert Line
Kashmir Travels feels pleasure to announce first real time online reservation system for Hotel properties in Jammu and Kashmir. This portal facilitates individuals to do real time advance bookings for hotels, huts and various other properties Jammu & Kashmir. Accommodation in Jammu and Kashmir.