More Places in Kashmir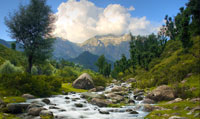 The list of popular tourist places in Kashmir does not stop here. There is a chain of places that attract the tourists and are very beautiful and interesting. There are places which are in the process of development and are yet to come up on the
Kashmir tourist
map. There are other places which are less known but very beautiful and places that have catered to a huge number of tourists in the past and are now in ruins. Then, there are other artificially formed tourist attractions that have become even more popular than the other places.
One among the most famous artificial gardens in Kashmir is the Tulip Garden. The Tulip Garden, located in the Siraj Bagh area on Boulevard Road is the Asia's largest Tulip Garden. This garden is also known as Baagh-i-GulLaala. The garden has come up recently and became an instant hit. The visiting season is short, still hundreds of thousands of tourists, local and foreign visit it each year. The garden is located on the road to the famous Mughal Gardens. The garden opens in March when colourful tulips bloom in the entire garden. The garden is a treat to watch. The tulips remain until ending April, thus limiting the season to only two months. A beautiful park has also been laid inside the garden.
Harwan Garden is another Mughal Garden located on the Boulevard Road. It was thronged by many tourists in the past. Even now it receives a number of tourists throughout the year. The garden is also laid on the patterns of Nishat and Shalimar. There was a large pond in Harwan, which has now dried up. The garden is still beautiful, however neglected.
Chashma Shahi is another beautiful place bustling with tourists in from spring to autumn. The place is also located on the Boulevard Road. This garden was laid by the Mughal Emperor, Shah Jahan, who built the wonderful TajMahal. ChashmaShahi, literally means the Royal Spring. It is actually a spring around which the emperor laid the gardens. The gardens have been described as "architecturally the most charming of the gardens near Srinagar." The spring has pure cold water which is its prime attraction. It is situated high up in a hollow lf the Zabarwan Hills. From here you can have a superb view of the Dal Lake.
Close to ChashmaShahi is located the PariMahal, the fairies' abode. This is built high in the lap of the mountains and dominates the view during your drive on the Boulevard Road. From the garden of PariMahal you can have a panoramic view of the Dal.
There are a number of other places to be visited and enjoyed in Kashmir Achabal, Verinag, Betaab Valley, Aru, Chandanwari and a lot more places are really beautiful and a must visit.