JAMMU KASHMIR Festivals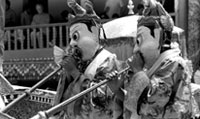 People in Jammu Kashmir are lively and zealous. They challenge all the odds of their geography and livelihoods to live their life happily. Throughout the year many festivals are celebrated in all the regions of the state. The festivals are mainly religious and therefore mainly classified into three categories- Muslim Festivals mainly celebrated in Kashmir Valley and parts of Jammu and Ladakh, Hindu Festivals mainly celebrated in Jammu and parts of Kashmir and Buddhist festivals celebrated in Buddhist monasteries.
Jammu Kashmir has been an epitome of communal harmony even at the worst of times. People here gather together on all occasions and celebrate all the festivals together. The major Muslim festivals that are celebrated in Jammu Kashmir include
Eid-ul-Fitr
, Eid-ul-Azha, Eid-Milad-un-Nabi (PBUH), SHAB-I-Qadar. Apart from this many anniversaries iof the Sufi saints, known as Urs, are celebrated in Kashmir. These festivals are celebrated by Muslims in the valley of Kashmir, according to the Islamic Calendar. People from other religions also join in the celebrations.
Hindu festivals celebrated in the state are Lohri, Baisakhi, BahuMela, ChaitreChaudash, PurmandalMela, JhiriMela, Navratri Festival, Ramnawmi, Mahashivratri, Diwali, ChaitreChaudash, BasantPanchami.
The most vibrant festivals celebrated in the state are the Buddhist festivals celebrated in Ladakh. Ladakh celebrates many vibrant religious festivals in the monasteries, known as Gompas. Ladakh has the worst climate and weather conditions, however, people are passionate about their religion and celebrate all the festivals with zeal, passion and religious fervour. The festivals follow the Tibetan Lunar CalendarFestivals celebrated here are Dosmoche Festival, Losar Festival, Ladakh Festival, MathoNagrang, SindhuDarshan Festival, Ladakh Harvest Festival, Tak -Tok Festival, YuruKabgyat Festival etc.