KASHMIR MOUNTAINS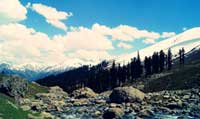 Kashmir enjoys a unique combination of forests, meadows, lakes and mountains. The valley is surrounded by majestic peaks on all sides. The state is located in the Pir-Panjal range of the Himalayas. The Himalayan range has the world's highest peaks including Mount Everest. The peaks of the valley give it a unique charm making it more beautiful than Switzerland. These peaks have a great geographical significance in Kashmir. Most of these peaks remain covered with snow throughout the year. The major peaks situated in Kashmir Valley are:
HARMUKH MOUNTAIN
Harmukh range is located in the Himalayas at an altitude of 5141. The alp ranges lie near Bandipura between Jhelum and Kishan Ganga Valley.
AMARNATH MOUNTAIN
Amarnath is famous for the Holy Cave. Every year many Hindu pilgrims come to this mountain to visit the Amarnath temple. It is situated at an altitude of 5372m. The peak is situated to the South Kashmir near Pahalgam. Gwasharan is also placed in the Lidder valley towards Pahalgam at a height of 5450 metres above the sea level. The famous Kolohai glacier lies on this alp. Another peak in this area is Sheeshnag. The peaks resemble the heads of seven snakes, hence the name Sheeshnag.
TOSAMAIDAN
Tosamaidan alongwithKajinag peaks lie in the inner Himalayas. Tosamaidan is located at an altitude of 4270 metres and the Kajinag Plateau lies at a height of 3700 metres. The water originating from the snow in these foothills flows directly into the Jhelum.
AFARWAT
The world famous tourist resort Gulmarg hosts these mountains. Alpathhar Lake lieson the top of this alp. NallahNagal emerges from this lake and flows into the Wullar. The massif is famous for tough grade skiing and Heli-skiing.
PIR PANJAL RANGE
This mountain range separates Kashmir Valley from Jammu and the outer Himalayas. The range is spread over a length of 2621 Km and a breadth of 50 Km. on its peak, in the shape of a tunnel lieson the famous Banihal Pass. A tunnel, named Jawahar Tunnel has been made over it which is about 3 Km long. This tunnel separates Jammu from Kashir.
Some of the mountains in Kashmir are Volcanic also. So far twelve earthquakes have rocked the valley. The most devastating earthquake occurred in 1885. It left almost entire state in a state of rubble. Soyamji in Handwara area and Kharewa in Pahalgam are considered to be volcanic. Kharewa is almost dead, while as Soyamji continued eruption of Lava for 13 months in 1934.