RIVERS IN KASHMIR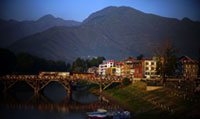 Another main attraction of the beautiful Vale of Kashmir is its great waterways. Kashmir abounds in water bodies, due to its cool climate and snow clad mountains that surround it. There are a few streams in the valley that are famous all over the world. These streams, apart from playing an important role in the agriculture of the valley, are also a great source of tourist attraction. At the centre of the activities in Kashmir valley lies
River Jhelum
, which is integral to the valley, particularly to the Srinagar city, so much that it is referred to as the "Lifeline of Kashmir". It is also known as Vitasta. Kashmiris locally call it Vyeth. The river is referred to as the lifeline of Kashmir. It originates from the spring of Verinag in Anantnag district, at the foot of the Pir-Panjal Mountains. It originates and flows as a stream until Anantnag, where a number of tributaries, near Khanabal merge into it to form a river. The waterway flows into Wullar Lake, before emerging from it in Baramulla and finally flows into Pakistan, joining Indus finally. In the course, the watercourse runs over a distance of 177 km. Many tributaries join Jhelum in its calm navigable course. In Khanabal alone, five tributaries Vishav, Romushi, Doodhganga, Sukhnag, Lidder, Ferozpur Nallah and Sindh-contribute to its formation into a watercourse. In Srinagar TchoontKol (literally Apple Lake), is its main tributary.
River Jhelum
thrives, on its banks, a lot of important towns and places. Much of the Old City, Srinagar is located on its banks. Many ancient and historic Sufi Shrines are located on its banks. A water trek through Jhelum is interesting to explore major part of Kashmir valley.
Many other waterways adorn the beautiful land. Lidder, Sindh, and Kishan Ganga flow in Kashmir. These canals offer great opportunities for rafting and water trekking. The waters of these streams are furious at places and thus throwing a fierce challenge to the rafters. Most of the rivers run a curved course through the mountainous areas en route to some of the beautiful tourist resorts of the valley. This makes the rivers a treat to watch. Watching the dancing water run its course and find its own way, overcoming all the hindrances, fierce and unstoppable makes a person wonder and teaches us some great lessons in life.
If you plan to visit Kashmir, you must visit parts of all its rivers, which shall cast a spell on you. The rivers make the journeys to the various resorts more interesting and enjoying.