leh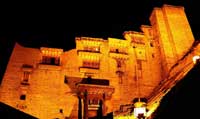 Leh is the administrative capital of Ladakh region of Jammu and Kashmir. It is a wonderful town built on a hillside amid rocky hills. It is a part of the greater desert but still is full of orchards, groves, gardens, poplars, willows, apples, apricots and large melons. Monasteries are abundant. The place is historically very rich and significant, as it was once the commercial nerve centre of Central Asia. The palaces, monasteries, other areas are very much interesting.
Tourism in Leh
began late in 1974, but became instantly a popular tourist destination, as largenumber of tourists visits this part of the world for its beautiful landscape, culture, tradition, history and environment. The region is also a powerful station for adventure tourism like trekking, mountaineering, rock climbing and river rafting.
Leh-Ladakh
is a part of the international tourist map and it attracts a large number of local as well as foreign tourists annually.
The greatest charm of town is its palace, which although ruined now, still dominates the place. This Royal palace known as
Leh-Palace
was built by King Sengge Namgyal. It consists of nine storeys; the royal family lived in the upper floors. The palace is now empty and crumbling as the royal family moved to Stok Palace some 10 miles away. However the crumbling palace holds its charm and still attracts and pleases a great number of visitors. This majestic palace when built was envied by the neighbouring countries.
Leh is known for its cultural heritage and is famous for its monasteries. It is often called the land of monks and monasteries.Hemis, Alchi, Lamayuru, Shey and Thiksay are some of themost popular monasteries of Ladakh which attract both domestic as well as foreign tourists. The city has become a popular tourist destination mainly because of its rich cultural heritage. Both domestic and foreign tourists throng the place each year. However, people who come to know about the interesting history and culture of region are rewarded by a breath-taking beauty of the place. Leh is part of the greater cold desert located in the rain shadow area, where the monsoon winds reach without any moisture. The mountains rise to a great height and it feels like one could touch the sky from them. The sky is clear blue extending like a vast canopy. The mountains are snow-capped silver and blue and giving the entire town a breath-taking look. The district is famous for its sizzling lakes Pangong, Tsomoriri and Tsokar. World's highest motorable pass, Khardungla is located in Leh. Tourism infrastructure is complete as the major chunk of economy of this tourist province comes from tourism, Leh is abounds in Hotels, taxis, restaurants, guest houses and a lot more. There are about 250 hotels of different classes.