KISHTWAR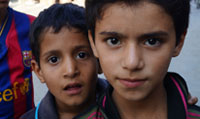 Kishtawar is another beautiful district situated at a distance of 109 km from Batote at an altitude of 1700 metres. It is bounded by Zanskar of Ladakh in the north, Himachal Pradesh in the east, Doda and Badarwah on the south, Anantnag and Banihal on the west. The district is surrounded by dense forests and steep hills. Saffron, apples, cherries, apricots, plums are grown here. The blankets of the region, popularly known as Kishtawari blankets are very famous. Dese ghee is available in abundance. Among the holy places include Tomb of Shah Farid-ud-Din and Shrine of Assar-ud-Din. Kishtawar is well linked with the rest of the road. The national highway 1B passes through the district which connects it with rest of the world. It is connected with Kashmir valley by ChhatrooSynthan road, which is being upgraded into National Highway. With the up gradation of this road it will become an alternate route for the tourists visiting Kashmir valley.
Kishtwar District is a newly formed district of the state of Jammu and Kashmir of India.
Block Kishtwar is the 1st block of the District:
Beron Town 1st panchayat of the Block, Beron town panchayat consists of Panditgam, Zewar, Nagdera, BucherwalMohalla, Semmna and Wazgwari
Kishtwar Sub-District

Kishtwar Tehsil
Paddar Tehsil
Marwah Tehsil
Chatroo Tehsil
Marwah Sub-District

Warwan Tehsil
Dachan Tehsil
Machail Yatra
Every year thousands of devotees pay visit to the Holy Shrine with the faith undeterred and to receive the blessings of Mata machailwaali situated around 30 kms away from Gulabgarh village, Paddar. The yatra was initially started by Thakur Kulbir Singh of Bhaderwah who was serving in J&K Police department and was posted in Machail. The yatra with Holy-mace starts from Chinote(Bhaderwah) during the month of August with a lot of zeal and fervor amidst the chants of MaaChandi. Devotees from Jammu start their journey from the Lakshmi Narayan Mandir (PaccaDanga) after taking the obeisance and join the yatra at Bhaderwah from where it takes off to Kishtwar and then to Atholi in Paddar. The Holymace is welcomed enroute by thousands of devotees at various villages with them offering free Langars at Gulabgarh, Massu, Kundhail, Chishoti, Hamori and Machail.