JAMMU KASHMIR TOURISM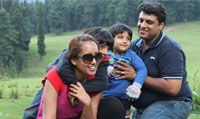 ALMOST 9 MILLION TOURISTS VISITED KASHMIR SINCE JAN 2012!
Tourism in Jammu and Kashmir
is the foremost source ofits fame and ofcourse economy. Reasons why people travel to this place are many. This is a favoured destination not only for tourism but also for travel and adventure sports like skiing, trekking, hiking, mountaineering, rock climbing, snowboarding and much more. It has a historical significance too as it was once one of the largest princely states, ruled by great Mughal emperors. The place changes hues continuously as you travel but one thing remains constant throughout-the unparalleled beauty and splendour of the landscape and people! Jammu
Kashmir tourism
is an important part of India tourism and world tourism.
Jammu and Kashmir is a place blessed with beauty that is Divine and Heavenly. The chain of sky-high snow-dressed mountains, green hills, dancing streams, scintillating lakes and rivers, colourful blossoming orchards and unending pastures makes this extremely beautiful place an actual Paradise for the travellers. The three divisions of the state are diverse in every form, so is their beauty. Each division is uniquely beautiful. Of the three, Jammu has the lowest altitude. Still, mountains dominate the area. Jammu city is known as the 'City of Temples' as there a lot of ancient and modern temples. The temples are a major source of attraction here. Jammu division also has some beautiful tourist spots like Patnitop, Mansar Lake, Bahu Fort, Amar Palace and many others.
Ladakh also is an essential part of Jammu Kashmir tourism. It is here the heavens meet the Earth. Referred to as the 'Rooftop of the World' and 'Moonland' Ladakh is cold desert, full of gold granite dust, and bare lofty mountains. The dry bewitched, sunbeaten and wind-swept land with its lonely peaks and multi-colored mountains has attracted and mesmerized visitors since ages.Many people regard it as the oldest inhabited land and it still is the highest inhabited land in the world. The rich cultural heritage, ancient form of Buddhism and many vibrant festivals celebrated every year are some major reasons of tourists thronging the place in huge numbers. Besides tourism, people here come for trekking, mountaineering, hiking and rock climbing. It is bound by the western Himalayas and the Karakorum Range of mountains.
Undoubtedly the best part of J&K tourism is Kashmir. The fact that it has been described as the 'Paradise on Earth' by a supreme lover of beauty (Mughal Emperor Jahangir), should suffice to declare it as the best tourist destination in the world. Kashmir tourism forms the soul of the world tourism industry. It has drawn parallels with Switzerland and Venice and has excelled both the places. Kashmir has everything that a person out on tour wants. Green Nature, clear scintillating water bodies, blossoming orchards, huge colossal snow-clad mountains, beautiful handicrafts and a lot more to be done and enjoyed. If you are a nature and beauty lover and you seek peace of mind and soul in natural landscape, you must visit Kashmir! If you miss Kashmir, you miss everything!