RAJOURI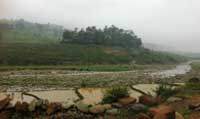 Rajouri lies at a distance of 156 km from Jammu on Poonch road. It is a very important town from military point of view. District offers a representative of the state in clime, culture and secular outlook. The district presents a composite culture¬¬ of Pahari, Gojri, Dogri and Kashmiri. Irrespective of ethnic foods, all speak the Pahari language with ease. The climate varies from semi tropical in the southern part to temperature in the mountainous northern part. The sub-tropical region receives regular monsoons whereas the northern part prone to hailstorm experiences excessive rains. The district is drained by small rivers known for desi ghee, anardana, chikery and wood products like combs, spoons, forks, sticks, candle stands, decoration articles etc. it is a central place for Gujjars and bakarwals to sell their products. A trade centre for anardana, guchhian, ghee milk products, Rajmas. The famous shah DharaShareef is barely 30 km away.
Rajouri is a district of Jammu region in Indian administered state of Jammu and Kashmir. The Line of Control lays to its west it and Poonch to its north and Naushera and Chhamb to its south. The district comprises six tehsils.
TOWNS OF RAJOURI

Thannamandi
Budhal
Kalakote
Nowshera
Sunderbani
Trekking satisfies one of man's basic impulses the urge to travel forth and seek adventure. Here are some very famous trekking routes of Rajouri.
TREKKING ROUTES
BASE: RAJOURI
Kandi - Kesri Hill - Kenaki Water Fall - Dada nar - Talyani - TalyaniGalli - Marguri - Bela - Simar Sar Lake- Bela Top - Dhakyar Peak - Rupri Galli Pass. Rajouri - Thannamandi - Dehra Kee Gaali - Girjan - Panjtari - Khuha Gum Sar -Nandan Pass - Nandan Sar Lake and 6 Other Lakes - Jaldi - Aliabad - Hirpur - Srinagar.
BASE: DARHAL
Darhal - Kanda -Shaker Marg - Cha Sari - Dood Wali - Chamber - Chamchi SarLake - Handoo Pass - Bhagh Sar - Sarota Valley of Flower - Neel Sar - Panjtari- Girjin - Noori Chamb - Bheram Galla - and Back.
BASE: BUDHAL
Budhal - Saveri Marg - Khodra - Simar Sar Lake-Bella- Kotoria Sar Lake -Dhakyar Peak.
BASE: RAJOURI
Budhal - Sar sot- Reta Wali - Harshou - Goray wan - Parhi Wali Marg- Konsar naglake- Mahinag - Kungwattan - Aharbal (water fall) - Srinagar.
BASE: THANNAMANDI
Thannamandi - Noori Chanbv - Chandi Marh - Poshina - Bagla - pir Pass - Aliabad - Mirpur - Suphian - Srinagar. Choti Thannamandi - Chandi Marh - Kabar Pathran - Bagla - Ganga Choti -Choti Marg - Choti Galli Pass - Kundhlan - Yous Marg - Srinagar.
BASE: RAJOURI
Girjan - Panjtari - Khuya - Sarota -Shaker Marg -Roopri Pass Bela -Khodra - Budhal.
For more information please visit Government official website :
http://www.rajouri.nic.in