Pahalgam Amarnath Yatra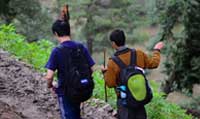 Amarnath via Pahalgam Route
Delhi or Jammu-Pahalgam
Distance: 320kms.
Driving Time (App.): 8-9 hrs.
On arrival at Srinagar airport you can go by road to Pahalgam. From Jammu Railway Station / Airport you can drive to Pahalgam. On arrival at Pahalgam stay in hotel for overnight stay.
Pahalgham - Chandanwari Pissu Top - Sheshnag
Distance: 16 kms + trek13 kms
Driving Time (App.): 6-7hrs.
Pahalgam
It is 96 KM from Srinagar .This distance can be covered by car, bus or taxi. Pahalgam is known all over the world for its beauty. It is small town situated on the banks of Lidder River. It is surrounded by high mountains. All essentials can be bought here. Good Hotels are available for accommodation. However the arrangements for stay and Langar are also made by the Non-Government Service Organizations.
Chandanwari
Leave Pahalgam (Valley of Shepherds) drive for Chandanwari. Chandanwari (2896 Mts.) is a small shut off vale, at the junction of Sheshnag stream and the stream for Astanmarg. The distance from Pahalgam to Chandanwari is 16km. The route is good. It can be covered by road transport also. Mini buses are also available from Pahalgam to reach Chandanwari. The trail runs along the Lidder River. The route is scenic. Food is available here. Pilgrims camp at Pahalgam or Chandanwari on the first night. On arrival to Chandanwari, trek to Sheshnag which is about 13 kms (3576 Mts.). The trial climbs the PissuGhati and then climbs gradually to the Sheshnag Lake.
Pissu Top
As the Yatra proceed further from Chandanwari one climbs a height to reach Pissu Top. It is said that to be first to reach for darshan of BholeNathShivshankar there was a war between Devtas and Rakshas. With the power of Shiv, devtas could kill the rakshas in such large number that the heap of their dead bodies has resulted in this high mountain.
Sheshnag
Sheshnag is one of the windiest places in this valley. You can have Dinner and overnight stay in tents at Sheshnag. This second day trek of 12 kms from Chandanwari is through Pissu Top and spectacular, primeval countryside, and reaches Sheshnag a mountain which derives its name from its Seven Peaks, resembling the heads of the mythical snake. The Journey to Sheshnag follows steep inclines on the right bank of a cascading stream and wild scenery untouched by civilization. The second night camp at Sheshnag overlooks the deep blue waters of SheshnagLake, and glaciers beyond it. There are legends of love and revenge too associated with Sheshnag, and at the camp these are narrated by campfires. The stillness of a pine scented Himalayan night increases your inner joy. Yatris can take bath and get their fatigue alleviated. It is beautiful and scenic.
Sheshnag - Panchtarni - Amarnath -Panchtarni

Distance: Trek 17kms + DARSHAN OF HOLY CAVE + trek*6kms
Driving Time (App.): 11-12hrs
Start trek from Sheshnag to Panchtarni (3657 Mts.) The walk is through Mahagunas Pass (3200 Mts), and then a gradual walk to Panchtarni.
Panchtarni
From Sheshnag one has to climb steep height up across Mahagunas Pass at 4276 meters. 14000 feet's for 4.6 KM and then descending to the meadow lands of Panchtarni at a height of 3657 meters (12000 feet's. The last camp enrooted to the Holy Cave is made here on third day. Here one faces cold winds which cause the skin to crack. Hence cold cream / Vaseline are very useful for protection of skin. Some Yatris are also effected by deficiency of oxygen. Some may get the feeling of vomiting. So dry fruit like Allu Bukhara, sour and sweet eatables like Lemon are useful to control these symptoms. The route to Mahagunas is full of rivulets, waterfalls and springs. Panchtarni is a very beautiful place in the feet of BHAIRAV MOUNT. Five Rivers flow here. It is said that the five rivers originated from Lord Shiva's Hairs Pilgrims camp at Panchtarni on the 3rd night.
Holy Cave of Amarnathji
Further trek Panchtarni to Amarnath cave. Amarnath is only 6 kilometers away from Panchtarni. Have a dip in the ice-cold water of Amarnath Stream, which flows, outside the cave.
The Holy Cave of Shri Amarnath is only 6 kilometers from Panchtarni. As there is no place to stay hence the pilgrims start in the early hours of the morning after their stay at Panchtarni. On the way to The Holy Cave one comes across the Sangam of Amravati and Panchtarni. Some pilgrims take bath at Amravati near holy cave to become pious before going for Darshan. Near the cave is found white soil known as Bhasam. It is the most beloved soil of Shivji. The pilgrims apply this Holy soil to their body and then go for ShivlingamDarshan. Inside the cave there is scenery of calm tranquility of white and glistering three massive Lingmas stand erect symbol of Lord Shiva, Parvathi and Ganesh.
It may be noted that after having early Darshan of the Shivlinga at Holy Cave one can return to Panchtarni well in time the same day. Some pilgrims camp at Panchtarni while others continue their journey and reach back Sheshnag by the same evening.
| | | | | |
| --- | --- | --- | --- | --- |
| PLACE | MTRS | FEET | DISTANCE | FROM |
| CHANDANWARI | 2895 | 9500 | - | - |
|  PISSU TOP | 3377 | 11000 | 16.0 KM | PAHALGAM |
| SHESHNAG | 3352 | 11730 | 3.0 KM | CHANDANWARI |
| MAHAGUNAS | 4276 | 14000 | 11.0 KM | PISSU TOP |
| PANCHTARNI | 3657 | 12000 | 4.6 KM | SHESH NAG |
| SANGAM | 3785 | - | 9.4 KM | MAHAGUNUS TOP |
| HOLY CAVE | 3952 | 13000 | 3.0 KM | PANCHTARNI |
For more info about
Amarnath Yatra Tours
and Amarnath Yatra.
Please Click on the Link to download
Amarnath Yatra Form
.
Or
please send us an email on
yatra@kashmirtravels.com
Kashmir Travels is a professionalized company in the tourism industry has achieved excellent reputation as service provider in both international and national market since years.