Yusmarg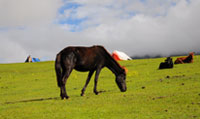 Yusmarg is a hill station in the western part of Kashmir Valley in the Indian state of Jammu and Kashmir. It is situated 47 km south of Srinagar the capital of the state.
Location :
Approx. 47 Kilometers from Srinagar
Famous For :
River, Nilnag Lake and numerous trekking routes
Yusmarg
is 'the meadow of Jesus' a glorious alpine valley where local people believe Jesus came and stayed. The grassy pastures give way slowly to dense pine forest, framed by a mountainous backdrop. Exceptionally photogenic and a prime spot for walks and picnics, it is also significantly quieter then the likes of Sonamarg and Gulmarg.
The word "Yus' is said to be the short form of Youza or Jesus Christ (Peace Be Upon Him) who according to a popular belief is said to have passed through this valley while traveling to Kashmir.
Yusmarg
is also a place that's renowned for some of the beautiful flowers in the region. There are many varieties of colorful and appealing flowers that will mesmerize your senses here. This is also a place that is largely used by trekkers and excursionists when they are on their way to the neighboring peaks and mountains. There are several points that are alluring destinations with their heightened natural wonders and beauty.
One of the main aspects of Yousmarg is that it is a natural setting that's aplenty with unspoiled beauty of nature. There is nothing here that will stand between you and Mother Nature and will truly leave you spellbound. People come here tired and restless and when they leave it is with a sensation of refreshed and rejuvenated souls
Tourist Attractions
A short trek of 4km to Nilnag a small lake amidst pine trees, near a hamlet gives an ultimate pleasure to visitors. On the valley side there is an interesting trekking from Gulmarg to Yousmarg via Tosamaidan. The trekking starts from Ferozepore area close to Tangmarg and goes towards Sunrise Peak after crossing the nallah. The first slowdown is DrangHabar. The trail then crosses through a dense forest and across the ridge is Tosamaidan. From here one can track the higher trail across mountains or descend to DrangKhag and take a rough road up to Gretabal and thence trekking across to the region.
A full day trek from Yousmarg to frozen lake in Sang e safe valley 10 km is quite fascinating one. Most of the portion of the lake is covered under ice throughout the year.
Horse riding in Yusmarg
Horse riding in the valley can be great fun; the pony-wallas in Yusmarg have quite reasonable charges for a ride compared to other destinations. A visit in summer to a place like it will positively be cherished by everyone in a group. This tourist place is suitable for young couples, as it is quietest place out of all tourist destinations.
Pony riding Routes

Neelanga
Doodganga
Fresnag
Haljan
Burgah
Sung Safade
Lidder Mad
Tripur
Shamnari Dargah