Hills and Mountains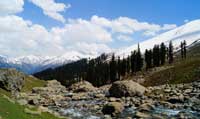 The greatest source of the beauty of the Jammu Kashmir State is the majestic mountains and the green hills that surround it and harbour it in its lap. Jammu Kashmir is particularly known for the mighty range of the mountains that surround of it. Jammu Kashmir is the northernmost state of India and India is bordered on its north by the mighty Himalayan range of peaks. Some of the world's highest peaks are located in the state of Jammu Kashmir. The mighty ranges of Himalaya that are located in the state of Jammu Kashmir attract a number of tourists every year. The Himalaya here provide tremendous, exciting and challenging opportunities for trekking, hiking, mountaineering, rock climbing and much more.
Most of the tourist resorts of state are located on green hills. The mounts are lush green meadows with thick pine forests. The hills have been made accessible by well-polished roads and the tourist infrastructure in most of these hilly areas is absolute. It is a great feeling to be walking in the hills and enjoy the cool climate and bare footed walks on the green grass.
Mountains are another source of awe and majesty of the erstwhile princely state of Jammu Kashmir. The mighty Himalaya standing firm on ground seems to be challenging mankind to try and overpower the fury they are filled with. The mighty Himalaya ranges in Jammu, Kashmir and Ladakh have plenty of colossal lofty peaks that are favourite destinations for trekking and other mountain expeditions and challenges.
For trekking and rock climbing the mountains in Ladakh in particular are the best. Ladakh is considered to be the highest inhabited place in the world. So, you will find population living in some remote areas of the region. Ladakh in itself is mainly comprised of Himalaya. The huge Rocky Peaks are splendid and stand bare and stark. World's second and the fifth highest mountains are accessible from Ladakh. Nun Kun massif, Zanaskar range and the Karakorum Range are the primary peak ranges in this region. However, due to a hostile climate if you want to hike into the peaks in Ladakh, choose the peak summer months for the expeditions. The best time would be from May to September. Ladakh receives a heavy snow fall and most of the areas remain cut off from the world during winters. It would be a great risk to climb peaks in Ladakh in winter.
Kashmir and Jammu are also abounds in Himalaya.
Harmukh range
Zabarwan range
Amarnath range
Affarwat range
Tosamaidan range
Pir Panjal range
And many other mountains ranges make the state a favourite for adventure sports.