KASHMIRI RECIPES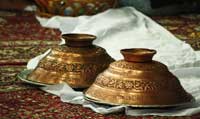 Goashtaba is called by Muslims as 'The King of Dishes' or 'Dish of Kings'. It is famous for its flavor and taste. It is served as the last Meat Dish in a 'Wazavan' Feast, before the Dessert.
METHOD OF COOKING KASHMIRI RECIPE GOASHTABA
1.
In a round bottomed, tinned copper or a heavy steel 'Patila' or 'Degchi' of about 3 liters capacity, boil the prepared Minced Meat Balls, in sufficient water to immerse these wholly. Before boiling starts, add to the water the Salt and the Aniseed and Ginger Powders. After half an hour remove the pot from heat and strain the Soup in a bowl, and keep the boiled Meat Balls separately in a plate. Discard the residue left after straining and clean the cooking vessel.
2.
Heat the Oil in the vessel till foam disappears. Add 'Ghi', Cloves and chopped Garlic. Stir again and add the prepared Curd and the Soup thoroughly mixed together. Go on stirring with a steel or wooden ladle, so that the Curd does not crack. When the Oil, 'Ghi', Curd and Soup boil and blend nicely, add the boiled Minced Meat Balls, and the Onion and Shallot Seasoning. Let it be on a low heat till the Gravy becomes somewhat thick and oil and 'Ghi' begins to show.
3.
Now add the 'Garam Masala', Cinnamon and Black Cardamom Powder, the slightly crushed Green Cardamoms and the finely chopped Green Mint or Green Coriander Leaves. Turn the Balls with a broad steel spatula and the 'Goashtaba' is ready to be served hot, along with a ladleful of it delicious Gravy.
In case Green Mint or Green Coriander Leaves are not available Dried crushed, and preserved Mint Leaves, may be used.
KASHMIRI RECIPE FOR CHAMANI QALIYA
Chamani QaliyaIn Kashmir, for preparing 'Qaliya', earthenware cooking vessels (a 'Deg' to cook 2 to 3 kg. 'Panir' and a 'Leij' for quantities up to 1 kg.), are usually used. The baked clay imparts a special aroma to the 'Qaliya'. However, where an earthenware vessel is not available, a steel or a tinned copper or brass 'Patila' is used.
1.
In a 'Kadahi', deep fry, on medium heat, the diced 'Panir' in the Mustard oil, till it turns golden yellow, and the edges of the pieces fry a little brown. While frying, keep on turning the diced Cheese with a perforated ladle (H - 'Jharna'), so that it is fried uniformly. Take out the fried Cheese, after draining the oil by means of the perforated ladle. Remove the 'Kadahi' from the stove.
2.
Now, in a 'Patila', of about 3 litres capacity, boil for half an hour, the fried Cheese, in a litre of water, after adding to it, the cup of Milk, broken Dry Ginger or sliced Green Ginger, the Aniseeds, Turmeric, Salt and half a pinch of Asafoetida.
3.
Strain the Soup through a colander or a cloth, and keep it in a bowl. Sort out the Cheese pieces and keep in another bowl, and throw away the boiled Ginger, Aniseeds and other sediments; left in the colander or the cloth.
4.
To the strained Soup, add the Curd, Aniseed and Ginger Powders, after mixing these with a spoon, or churning with a small churning stick (H - 'Biloni) into a homogenous sauce. Pour this into the 'Patila' or an earthenware vessel, after washing its inside. Resume heating it, and keep on stirring with a steel or wooden ladle, so that the Curd does not crack and separate, till it comes to a boil. Add the boiled Cheese pieces, and let boil for another 20 minutes.
5.
Meanwhile alter straining the oil left over from frying of the Cheese, to remove any sediment, heat it again in the 'Kadahi', and add to it Cloves, Cumin Seeds, and the remaining half pinch of Asafoetida. Stir till the Cumin Seeds and Cloves get a little fried, but not charred, and add this oil along with the Spices to the boiling Cheese. Stir and let boil for five minutes more.
6.
Add Caraway Seeds, somewhat crushed Green Cardamoms, the Black Cardamom, Cinnamon and Black Pepper Powders, and also the 'Garam Masala'. Mix gently with the steel or wooden ladle, and let the pot, after covering it with a lid, simmer on very low heat for another 10 minutes. 'ChamaniQaliya' is ready. Serve it piping hot, ladling directly on hot Plain Cooked Rice, as is usually done in all Big Feasts and Dinners.
KASHMIRI RECIPE FOR RISTA
Rista, it is a delicious Dish, and usually a couple of 'Rista', along with a ladleful of its Gravy, are served per 'Tram', for 4 guests. It is also a good Dish for Domestic Meals.
1.
Heat the oil in a tinned copper or steel 'Patila', of about 3 liters capacity. When foam disap-pears, add chopped Garlic and the Cumin Seeds. Stir till Garlic turns light brown. Add a ladleful of water along with Red Chili Powder and Turmeric. Stir again, and add a liter of water, along with Aniseed and Ginger Powders, Red Cockscomb Decoction, Onion and Shallot Seasoning, and Salt to taste.
2.
Now add the Minced Meat balls gently one by one. After boiling, on medium heat, for half an hour or more, till the Meat Balls cook well and the Gravy thickens, add Cardamom and Cin-namon Powder, 'Garam Masala' and Saffron. Let simmer on low heat for another 5 minutes. 'Rista' is ready. Serve hot, along with Gravy.