Tulips in Kashmir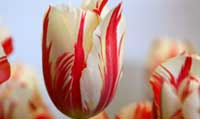 Tulips have come to Kashmir in a big way. Asia's largest tulip garden at the foothills of Zabarwan hills and on the banks of the famous Dal Lake is in full bloom and was thrown open to the public this week.
The garden, fashioned after and inspired by the world famous Tulip Gardens in the Netherlands, is the brainchild of Chief Minister Ghulam Nabi Azad. He ordered its creation last year to add not only more color to the idyllic Valley but also add to the state coffers through the sale of tulips and their bulbs.
The trade is estimated at billions of dollars worldwide, with Holland being the premier beneficiary of the global demand for it.
Kashmir, with climatic conditions favoring the growing of tulips is also aspiring to claim its share of the global pie.
The garden is spread over 90 acres and is in full blossom right now with tulips of various colors, making it quite a feast for the eyes.
It has become new favorite with visitors in an area that is dotted with the famous Mughal gardens, juxtaposed with the Royal Spring Golf Course and the botanical garden.
With 50 varieties of imported tulips in full bloom these days, it has caught the fancy of locals and tourists alike and is frequented on all days. Entrance fee is only Rs 20 per head.
"We are extending the Sirajbagh Tulip garden to 2000 canals of land and that would make it world's largest tulip garden," said a state officer.