JAMMU KASHMIR CUISINE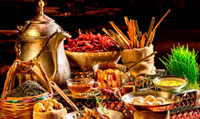 Like its landscape, the delicious cuisine of Jammu Kashmir is also unparalleled in the world. A variety of mouth-watering recipes are available in the state. The best recipe of the state is prepared in the Kashmir Valley and is called Kashmiri Wazwan. The wazwan is a speciality of Kashmir and is prepared on all important occasions, mainly marriages. Kashmiri Wazwan is also available in almost all the hotels for the tourists.
Kashmiri wazwan is essentially non-vegetarian and involves a lot of meat. Around 36 courses constitute the whole Wazwan meal, prepared by special cooks locally known as Waza. Kashmir waza's are very well skilled in the in the preparation of Wazwan, based on meat, usually obtained from sheep or lamb. A number of special spices are used in the preparation of these dishes. It also involves the use of saffron and is usually served with the staple food of Kashmir, cooked rice. The main items of wazwan include Goshtaba, rista, rogan josh, kabab, tabakmaaz.
Jammu Kashmir
does not specialise in vegetarian dishes. However, a few of the vegetarian dishes have made a mark in the country. Most famous of the vegetarian dishes is Dum ALoo (steam cooked potato). Other vegetarian dishes include Rajma, Cheese, Nadir Yakhni, Palak, Haak. People in Kashmir usually eat vegetables, but there is not a specialised method or recipe. Many restaurants in the valley provide vegetarian food for their guests.
A sweet dish named fireen is served at the end of the meals and is a delight to the taste buds. Special bakery items include the crispy sheermal, bakirkhwani, tchochwor (Kashmiri bagel). One of the most favoured items to savour here is the Kehwa prepared with pure Saffron that grows in Kashmir. The kehwa is a type if tea that is prepared with saffron, water, sugar, cardamom and cinnamon and is served hot.
Ladakh follows the Tibetan style of cooking and their cuisine is much similar to that of Tibet. Jammu Kashmir cuisine is a treasure for food lovers. You often end up over-eating. Don't worry, the climate of the valley is perfect and the digestion takes place quickly. So, if you visit Jammu Kashmir, don't miss the delicious food.
News about Kashmiri Wazan >>