DODA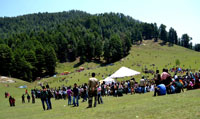 Doda is a beautiful district of Jammu Province of the state of Jammu and Kashmir. The region is rich in natural beauty, which makes it a perfect tourist destination. Doda district lies nestled beautiful green mountains and snow white bubbling streams. The place is known for tourism and particularly for the rich wildlife that it inhabits. High altitude peaks, dense forests and various streams make it ideal for wildlife explorations.
Most of the travellers are attracted due to the mesmerizing beauty that enjoys beautiful walks in the lap of the nature. It has also opportunities for trekking, mountaineering, rock climbing and other adventurous activities.
Among the various attractive tourist stations of Doda are Kishtawar, Bhadarwag and Chinta Valley. Kishtawar is located at a height of 5,360 ft and like the rest of region has a rich wildlife. Muskdeer, Snow deer, Neel gai, leopard and many other wild animals can be spotted in the mountainous regions. The place has some important religious places as well. Athra Buja Devi temple, Chandi Mata temple, Farid-ud-Din sahib and Zain Shah Sahib are some of the prominent religious places of the place.
Chinta valley is another exquisitely beautiful valley with dense forests, situated on top of a mountain rande with an altitude of 6,500 ft. the main attraction of the area is the Chinta River, which flows through the valley. The scenery all around is breath-taking.
Of all the tourist resorts in Doda district, the most beautiful place is Bhaderwah. It has some incredibly beautiful places with some great natural beauty that casts a spell on the beholders. Such is the beauty of the place that it has earned the name of "Chota Kashmir", literally small Kashmir. Bhadarwah is a mountainous town. The place wears its best looks during the spring months from April when the snow starts melting and everywhere around is splendidly green. The temperature is fairly moderate throughout the year, compared to the other areas of the Jammu division. Colourful fairs, festivals, and a unique cultural diversity mark the beautiful land. It is an important and popular pilgrimage centre as well. An important Hindu Pilgrimage of the area is the Kailash Yatra.
Among the other tourist places in Doda are

Khani Top
Sanasar
Seoj Meadow
Patnitop
Sarthal
All these places are very beautiful and have opportunities for many adventure sports as well. Doda is a must visit place, if you travel to Jammu Kashmir.