sonamarg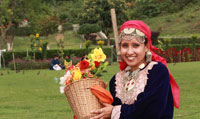 The best thing about Kashmir valley is that each region and area has some tourist resort and each region has a lavish beauty even if it is not a known a tourist spot. You travel to North, South, East, West or Centre; your journey will never go waste. It is situated on the Srinagar-Leh highway. It is situated at a distance of about 100 km from Srinagar; at an altitude of 9,200 ft. The region literally means the meadow of Gold.
Sonamarg is the home of many famous and beautiful glaciers, one of which is the Thajwas glacier. The glaciers are however receding now due to global warming. Still the place receives a heavy snowfall during winters and therefore it remains cut off from the rest of the valley during that time. This is the prime reason of it not witnessing such huge rush of tourists; otherwise it is probably the most beautiful place in Kashmir. The meadow is set with the backdrop of imposing snow-clad mountains. Tarns arising from the glaciers, forming springs and fast flowing rivers adorn the already beautiful meadow.
The route from Srinagar to Sonamarg is equally enthralling and beautiful. The drive goes along a furious hilly river, Sindh overlooking a splendid green valley. The drive is dominated by the superb views of majestic Harmukh range that leaves the traveller fascinated. During summers, beautiful flowers sprout giving it even more charm and beauty. The meadow, sprinkled with flowers, surrounded by mountains, carved by River Sindh and encircled by still lakes and great glaciers with thick alpine forests makes it a wonderland of beauty.
Apart from leisure trips, Sonamarg is also famous for trekking and other adventure sports. Rafting in River Sindh is the prime interest here. The water of the river is fast and hence provides the real excitement during the adventure. Sonamarg is the basecamp for the famous Kashmir Great Lakes Trek and many other treks into the mighty range of the Himalayas. Many beautiful alpine lakes that include Kishansar, Vishansar, Gangabal and Naranag can be accessed from here. It is also another basecamp for the annual Hindu pilgrimage to the Amarnath Cave.
SONAMARG is accessible by road from Srinagar and the entire journey takes around 3 hours. The road is hilly but beautiful. It is prone to landslides at places but overall the drive is safe. However the best time to visit it is during the summer months from May to June. The roads are clear, the atmosphere is spectacular and the place looks heavenly. It is advisable to carry some warm clothing with you as the temperature sometimes dips too low even during summer.
From sonamarg, you can visit many places of interest. Baltal the first stop for
Amarnath Yatra
is 15 km away, Amarnath cave is 22 km, Zojila Pass 9 km and Gangaballake is 40 km away from Sonamarg.