Sufi Shrines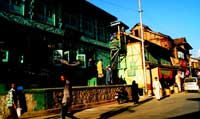 Kashmir is a hub of Sufism. Not many places in the world have had such a huge number of Sufi saints as have been in Kashmir. The Sufi saints who came to Kashmir from Middle East with the message of Islam are revered in Jammu Kashmir by all the people irrespective of religion. It is this love for the saints that people of the state have built great artistic shrines dedicated to their beloved saints. The shrines have become important religious and festival centre in the entire state.
Kashmir is the land of Sufi saints. The first Sufi saint to visit Kashmir with the message of Islam was Mir Sayyid Ali Hamdan, popularly known as Shah-i-Hamadan. Shahi Hamadan came to Kashmir along with his seven hundred followers with the message of Islam. They settled in various parts of Kashmir and spread the message and played a great role in converting the local population to Islam. The people of Jammu and Kashmir made shrines at various places that are dedicated to the Sufis of Kashmir. The shrines have been made at places where the Sufis used to meditate and where they lie buried. This is the reason that most of the Shrines are located on hills. The hills were isolated and hence a perfect place for worship and meditation.
Although the Saints were Muslim and came with the intent of converting the local population to Islam, they are equally revered by people from other religions in and outside Kashmir. People from all religions come to these places with their whims, wishes and desires.
The Sufi shrines in Kashmir are a great architectural treasure. Some of the shrines are centuries old. Kashmiris pour all their love and devotion in maintaining and beautifying these shrines. The beautiful shrines have earned Kashmir the name of "PirWaer", the garden of saints. There is a shrine, big or small, almost in every village and town of the Valley. The shrines are not restricted to Kashmir valley in particular, but are found in all the three regions of the state. All the shrines have a blissful air so much that one feels very close to Almighty inside these shrines.
Of the most popular and world famous shrines include Aishmuqam dedicated to Baba Zain-ud-Din Wal, Baba Reshi, Chrar-e-shareef dedicated to Sheikh Noor-ud-Din Noorani, MuqdoomSahab, Dastageer Sahib shrine dedicated to Syed Abdul QadirJeelani, Khanqah Srinagar dedicated to Shah-i-Hamadan.
There are a number of other shrines in Kashmir that are revered by the people of Kashmir. The cave shrine on Aishmuqam is particularly popular among tourists because of its location and the fact that it falls on Srinagar Pahalgam road. Another popular shrine among tourists is Baba Reshi near Gulmarg.