WHERE IS JAMMU KASHMIR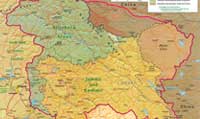 Jammu Kashmir is the northernmost state of India. India is one of the largest countries of South Asia, sharing its borders with Pakistan, China, Bhutan, Nepal, Bangladesh, Myanmar and Afghanistan. Jammu Kashmir is one of the largest states of India. It lies between 32o 17' to 36o 58' North latitude and 73o 26' to 80o 30' East longitude. It has dimensions of roughly 640 km north to south and 480 km east to west. Parts of it are under the control of Pakistan and China. On the south west and west, Jammu and Kashmir shares its borders with Pakistan and on the north with China and part of Russia. In the east it is covered by China and the southern side is extended upto Punjab and Himachal Pradesh states of India. The distance from the capital of India, New Delhi is around 650 km.
JAMMU KASHMIR MAP
Jammu and Kashmir map area is around 222,236 square kilometres, almost equal to area of The United Kingdom. It is the northernmost state of India, with three divisions: Jammu, Kashmir and Ladakh. It is a valley with scenic beauty, situated in the lap of The Himalayas. The valley is surrounded by lofty mountains. It is an epitome of perpetual natural beauty. Its landscape is as good as any top tourist resort in the world. Its unparalleled beauty and a number of sacred places have been attracting visitors and pilgrims since time immemorial. Some of the most famous places on earth are located in this area. On Northern side of the valley are famous tourist spots like
Gulmarg
Tangmarg
Khilanmarg
Apharwat
Kupwara
Handwara
Bangus Valley
Drang
Baramulla
Chanderhama
On the East is the famous Sonamarg, with its numerous glaciers, notably the Thajwas glacier. South Kashmir has numerous places to boast about including Pahalgam, Betaab Valley, Aru, Kokarnag, Achbal, Mattan. There are many archaeological sites on way to South as well. On the Western side is Yusmarg, Doodpathri, and Tosmaidan. In central Kashmir lies Srinagar, the home of many Historical sites, shrines, Mosques, Hills and Lakes.
Major sites here are
Hazratbal Shrine
Shankaracharya Temple
Khanqah-e-Molla
Jama Masjid
Chatti Padshahi
Cheshma Shahi
Pari Mahal
Nishat Garden
Shalimar Garden
Dal Lake
Nagin Lake
All these locations adorn Kashmir map, luring visitors to visit this heaven.