Gardens And Orchards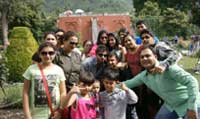 Jammu Kashmir is a land blessed with superb natural beauty. The landscape, rivers, lakes, springs, streams, mountains, hills adorn this fairyland. There a number of tourist resorts in the entire state. The resorts are extremely beautiful and are mainly located at high altitude hills. Most of the resorts are lush green meadows where you would love to walk barefooted. However, there is much more natural and artificial beauty in the state apart from these tourist resorts. Gardens and orchards spread throughout the state are soothing to the eye.
Visit Kashmir in the spring time and any place will be more beautiful than the famous tourist resorts of the world. There are many gardens and orchards in Kashmir valley that are at full bloom during spring time from March to early May.
Mughal gardens
laid by Mughal emperors in Srinagar and adjoining areas are wonderful artificial gardens, which are visited by thousands of people daily. These parks have been laid artistically with a water channel running in the middle that enhances the beauty of the parks. The huge Chinar trees, beautiful variety of flowers and many other trees and plants make the give the parks a natural look. Most of these parks have been laid at the foot of beautiful hills, which provide them a stunning backdrop. These parks also look beautiful in autumn, when the Chinar trees turn red and glow on sunrise and sunset.
Nishat Garden
and Shalimar Garden are located on the banks of Dal Lake, which lends it even more charm.
The prime occupation of the people of Jammu Kashmir is agriculture. People in the rural areas in particular derive their livelihood from agriculture. The work begins in spring when the paddy is sown in the fields. The greenery of these fields gives the valley a charming look. You will find these beautiful fields en route to all the major tourist resorts in Kashmir. Orchards, in which fruits like Apples, Pears, Walnuts, Apricots, Almonds etc are grown are also very beautiful. These trees sprout blossoms in April that lives for a short time. During that time these gardens wear a stunning look that mesmerise the onlookers.
In simple terms, a visit to Kashmir is always going to be a treat. A visit to any place in the valley will enchant you and fill your nerves with supreme relaxation. The beauty of the land will be imprinted on your mind for a very long time and will entice you to visit the place again and again.